Meet the 16 startups picked for Microsoft Ventures' summer acceleration program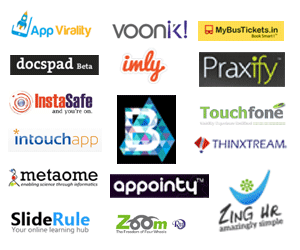 Microsoft Ventures India has announced the list of 16 startups for its summer batch of accelerator program for 2014. Of the total 16, six startups will constitute its newly-launched Accelerator Plus Program, which is tailor-made for startups that have customer traction and know their market fairly well, whose needs are vastly different from early stage companies.
"The good thing about this batch is that most of these companies already have a certain amount of customer traction and the accelerator program is well positioned to step in and help them move ahead faster than they would have otherwise," said Ravi Narayan, director at Microsoft Ventures. According to him, this program is for more mature companies which are closer to raising VC funding.
Here is a sneak peek at the summer batch of startups.

Appointy: A scheduling software that helps businesses to schedule appointments, accept pre-payments, send reminder alerts, update social networks and personal calendars, create promotions, create discount coupons, manage and grow virally.
App Virality: A solution that let one's app go viral on social media, increase the number of app downloads, and identify top influencers and communicate with them.
Bookpad: Provides an enterprise product called docspad.com that enables customers to provide preview, edit and manage any documents on their cloud – right in their application user interface.

Boutline: It lets one set up social tasks and challenges for an event audience and enables him/her to reward the audience for influencing the masses.
Imly: An online aggregator of home chefs. The portal is a full-fledged marketplace that currently offers 1,265 dishes from over 150 home chefs from 10 cities.
InstaSafe: It aims to make it simple and safe for companies to securely access enterprise-provisioned on-premise applications, public and private clouds, from anywhere.

IntouchApp: Enables one to automatically view up-to-date information of his/her contacts on mobile as well as online.
Metaome: A Big Data company for the life sciences space. Its flagship product, called DistilBio, combines graph search and data integration technologies to accelerate drug discovery by connecting across diverse data in life sciences.
SlideRule: An online learning solution that helps one discover the world's best online courses in every subject.

Voonik: A stylist-handpicked online fashion store.
MyBusTickets.in: An online bus ticket booking platform.
Praxify: An online healthcare venture for doctors, patients and hospitals.

Thinxtream: Provides DeviceMaestro Smart, an intelligent, secure and open machine-to-machine (M2M) application to enable organisations to implement their M2M strategy.
Touchfone: Provides an instant messaging platform called Chat n Play.
ZingHR: A HR management software for SMEs as well as large organisations.

Zoom: A membership-based, self-drive car rental service.
Microsoft Ventures in India has mentored 35 startups since August 2012, of which about 80 per cent were funded while two - Adepto and Plustxt – got acquired.
(Edited by Joby Puthuparampil Johnson)
---