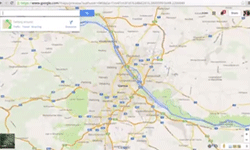 Search giant Google has finally begun the global rollout of the new Google Maps. Debuted in May last year, the new maps will be available to users around the world in the coming weeks. Here is a look at what's new.
"It's now even easier to plan your next trip, check live traffic conditions, discover what's happening around town, and learn about a new area—with Pegman's (a yellow coloured personalised guide of Street View for users) help if needed," wrote Brian McClendon, VP of Google Maps at Google, in an official blog post.
Smarter search: Users can simply search for 'coffee' in their neighbourhoods, and they will be able to view results and snippets right on the map. When you click on a particular cafe, the map will suggest related results that you may not have known earlier.
Route finder: Car, bike or train—the feature finds the most efficient route with your best options laid out on the map, including the time and distance for each route. In addition, users can make use the new real-time traffic reports and Street View previews.
Rich imagery: Takes users to notable landmarks, above mountains in 3D, and gives them a sneak peek of businesses they plan to visit. Additionally, the new 'carousel' at the bottom of the map makes all this imagery easy to access.
Here is an introductory video of the service.
"With any product redesign, there may be bumps along the road. We are hoping that you are as excited as we are to navigate uncharted territory in pursuit of the perfect map," wrote McClendon.
Last July, Google had started rolling out the new Google Maps app for Android smartphones and tablets. It came with a host of new features that included Explore: Enables users to visually browse and discover new places by simply tapping on the search box; Enhanced navigation: In addition to current traffic conditions, the company has added two new features to help users navigate around traffic; as well as Reviews, Zagat and offers: The app also now has a 5-star rating system that gives users a quick preview of how others rate places like restaurants, bars and cafes.
(Edited by Joby Puthuparampil Johnson)
---