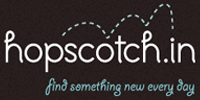 Hit the Mark Inc, which runs Mumbai-based curated baby and kids products flash sales venture Hopscotch, has secured $2 million from Singapore-based LionRock Capital, with participation from a group individuals including Nisaba Godrej of Godrej Group, Skype co-founder Toivo Annus and Diapers.com CTO Wei Yan, according to a report by The Times of India. The capital will be used to ramp up its marketing initiatives and expand the technology.
Hopscotch was founded by Rahul Anand and Lisa Kennedy. Rahul holds an MBA degree from Harvard Business School and a BS degree in Mechanical Engineering from University of Michigan. Prior to setting up this online venture, Anand was the director of Diapers.com, which was acquired by Amazon in 2011. Earlier, he had worked at Skanan Ltd, Dell, Optiant and Honeywell Aerospace.
An MBA from Harvard Business School, Lisa earlier worked at Quidsi Inc, Time Inc and Diageo. She had also worked as a financial analyst (equity research) at Goldman Sachs.
Hopscotch is an online store for baby and kids' brands, including apparel, shoes, toys & books, and moms & maternity products. The firm claims that unlike traditional online stores, it introduces new limited-time boutiques every day.
What it means is that each brand's collection (a boutique) is open and available for only a fixed period of time—from a few hours to four-five days. Hopscotch also offers a feature called pre-order, which allows users to book select products ahead of time. The firm claims it is working with hundreds of brands from all over the world.
It competes with two significant VC-backed ventures in the vertical—FirstCry and Babyoye. Last month, Pune-based FirstCry raised $15 million led by Vertex Venture Holdings, a venture investment arm of Singapore's sovereign wealth fund Temasek.
The latest investment in Hopscotch comes at a time when the baby and kids product vertical has been going through a consolidation. Kalaari Capital-backed Hushbabies shut down and Hoopos merged with Babyoye.
But that hasn't stopped investors on betting on Hopscotch. LionRock Capital is a family investment office operated by former Goldman Sachs' senior executive Hari Kumar.
(Edited by Joby Puthuparampil Johnson)
---