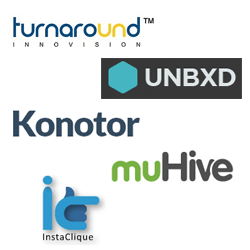 Target Corp has launched an accelerator programme in India to help early-stage startups develop ideas that could improve the retail giant's business and the broader retail industry. The company has picked five startups operating in different sectors for the initial batch. It could not be immediately ascertain as to when the programme will kick off.
Called Target Accelerator Program, it will focus on broad themes, including mobile, content, social, search, data and analytics. Through this four-month immersive programme, Target Corp will work with technology startups to help them develop their transformative business ideas by providing them access to mentors, tools, resources and operational support.
Here is a sneak peak at the first batch:
Turnaround Innovision: This Bangalore-based startup provides interactive views of products and builds automated systems to minimise the time and cost to make these models live on the Web for huge catalogues. For more on this company, click here.
Unbxd: This Bangalore-based startup offers a product recommendation platform for e-commerce companies.
Konotor: It enables an in-app two-way communication with seamless integration with existing apps in both iOS and Android platforms.
muHive: It offers a workflow management tool to associate sentiment classifiers real-time, attach internal segment definitions and dynamically route workflow to simplify social conversations.
Instaclique: It integrates social media conversations online and through mobile apps to increase customer engagement.
"Innovation is core to Target's culture and we believe great ideas can come from anywhere. We are excited to invest in our first accelerator program and are thrilled to be a part of the India startup ecosystem. We trust that these startups will help spur innovative solutions that will ultimately benefit our guests," said Navneet Kapoor, president and managing director, Target India.
(Edited by Joby Puthuparampil Johnson)
---