Along with the Samsung's and the Sony's of the world, struggling Canadian handset manufacturer BlackBerry (previously Research in Motion or RIM) has also unveiled two new smartphones at the mobile world congress (MWC) 2014. Christened BlackBerry Q20 and Z3, both the devices runs on the latest version of the BlackBerry 10 operating system. While one of them (Z3) comes with a touchscreen display, the other one (Q20) offers a full classic QWERTY experience that the company was famous for at a time in the past.
Here is a look at the specifications of the devices.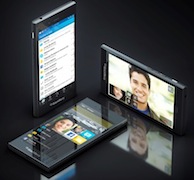 BlackBerry Z3 & Q20
Made primarily for the Indonesian market, the smartphone has a 5 inch touchscreen display (540 x 960 pixels resolution) and runs on the BlackBerry 10 OS version 10.2.1. It is powered by a 1.2GHz dual-core Qualcomm Snapdragon 400 processor and has 1.5GB of RAM. The internal memory of the device is 8GB.
It also comes with a 5MP rear camera that can also record videos and a front facing camera for video calling. On the connectivity front, it has Bluetooth, 3G, and 4G LTE. The smartphone also comes with micro-SIM support, FM radio, & GPS (with A-GPS support), and it will be available in black colour.
"We are excited to introduce the new BlackBerry Z3, the first smartphone to emerge from our strategic partnership with Foxconn, which was announced in mid-December 2013," said John Chen, executive chairman and CEO at BlackBerry.
With Q20 on the other hand, the company has gone back to its grassroots. The new Q20 smartphone will feature the classic 'menu', 'back', 'send' and 'end' buttons, as well as the integrated trackpad to enable efficient navigation and one-handed use that had endeared the brand to its QWERTY customers. While the company as of now has not disclosed details on its specifications, the smartphone will also feature a 3.5 inch touchscreen display, making it a touch and type offering.
"In my first 90 days on the job, I consistently heard from our ardent BlackBerry customers that the hard buttons and trackpad are an essential part of the BlackBerry QWERTY experience, that made their BlackBerry smartphone their go-to productivity tool. I want these customers to know that we heard them, and this new smartphone will be for them," added Chen.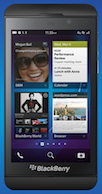 BlackBerry Z10 now for Rs 17,990
Closer home, the company has yet again slashed the price of its flagship Z10 device in India. The smartphone- which was launched in Feb last year for a hefty price tag of Rs 43,490- had received its first price cut within a few months of its launch. BlackBerry has now decreased its price to Rs 17,990, which is almost 60 per cent lower than its original price. However, whether the price cut will be enough to arouse consumer interest in the device is something only time will tell.
Here is a quick look at the specifications of the device.
This device sports a 4.2 inch capacitive touchscreen display (768×1280 pixels resolution) with 355 ppi (pixels per inch) pixel density. Z10 is powered by a 1.5 GHz dual-core Qualcomm Snapdragon processor and has 2 GB of RAM. The internal memory of the device is 16 GB that can be expanded up to 32 GB with a microSD card.
It has an 8 MP auto-focus rear camera with LED flash that can record full HD videos (1080p) at 30 frames per second and a 2 MP front-facing camera that can also record HD videos (720p) at 30 fps. On the connectivity front, the device has Bluetooth 4.0, Wi-Fi, 3G & 4G LTE, a microSD slot and a microUSB port. The smartphone measures 130mm x 65.6mm x 9 mm and weighs 135 gm. BlackBerry has provided an 1,800 mAh battery in the device and comes with Near Field Communication (NFC). It has GPS with A-GPS support and is available in white and black colours.
---