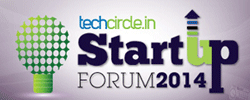 On the first day of Techcircle Startup 2014, we took entrepreneurs for walkabouts to the offices of leading startups and VC investors in Bangalore. The walkabout began with a great session at Google India, where its programme manager Paul Ravindranath made a presentation on internet & innovation in India.
He talked in length about how Google spends about 20 per cent of its time to give us Google news and keep innovating its products like Google Talk and Gmail, among others. The second stop was at Mu Sigma's office, where Deepinder Dhingra, its head of product and strategy, shared the success stories of the firm. He elaborated on the company's USP and the culture of building data scientists, and also walked the entrepreneurs through its various products and solutions.
Simultaneously, another team walked to the offices of Helion Advisors and Sequoia Capital, where the top executives at the firms shared the latest trends in technology, and how they view the startup space in India etc. According to these experts, IoT is the next big thing and it is on the verge of a revolution.
Sequoia Capital reiterated the potential of consumer internet space in the country, and that it is seeing an inflection point in this space. According to Sequoia, the fund will not invest in companies/entrepreneurs which are doing too many things at a time. They will also avoid companies which are targeting smaller markets, which is true for almost all VCs.
At online learning company Simplilearn, chief product officer Kashyap Dayal talked about the company's three-pronged strategy – reference, search and brand visibility, while at Flipkart, the largest e-commerce player in India, Rahul Chari, VP (engineering), made an interesting presentation on the company's payment gateways, shipping and delivery strategies, etc.
(Edited by Joby Puthuparampil Johnson)
---