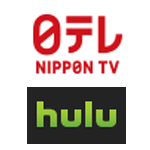 Nippon Television Network Corp said it will buy Hulu LLC's Japan business to offer video-on-demand to viewers.
Hulu is an online video on demand service that launched in 2008 in the United States and is a joint venture between NBCUniversal, 21st Century Fox NWSNA.UL, and The Walt Disney Co.
The company launched its Japan service in September 2011 and currently offers subscriptions for unlimited viewing of content on internet-connected devices such as TVs, PCs, tablets, smartphones and gaming consoles, for about 980 yen per month.
"In addition to terrestrial broadcasting and BS/CS broadcasting, Nippon TV is looking forward to succeeding Hulu's business as a new path to deliver content through the Internet," Yoshio Okubo, president, Nippon TV said.
Under the agreement, Hulu will license its brand and technology to a subsidiary of Nippon TV and provide support services for Hulu Japan's video-on-demand service under the Hulu brand, Nippon said in a statement.
---