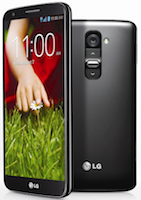 After launching the same in September 2013, LG Electronics has now gone ahead and unveiled a 4G LTE version of its flagship G2 phablet in the Indian market. While the 3G model of the device was launched for Rs 41,500 (16GB) and Rs 44,500 (32GB), it is now retailing at Rs 39,990 for the 32GB version. In contrast, the 4G LTE versions have been priced at Rs 46,000 and Rs 49,000 for the 16GB and 32GB respectively. Here is a look at the specifications of the device.
The smartphone has a 5.2-inch full HD IPS capacitive touchscreen display (1080×1920 pixels resolution) with 423 ppi pixel density, and runs on the latest Android 4.2.2 (Jelly Bean) operating system. It is powered by a 2.26 GHz quad-core Qualcomm Snapdragon 800 processor and has 2GB of RAM. In terms of internal memory the users will have a choice between 16 and 32GB versions.
G2 has an 13 mega pixel autofocus rear camera with LED Flash that can record full high definition videos (1080p) at 60 frames per second and a 2.1 MP front-facing camera for video calls that can also record full HD videos at 30 fps. On the connectivity front, the device has Infrared, Bluetooth 4.0, Wi-Fi (with Wi-Fi Direct), Near Field Communication, 3G and 4G LTE. It also comes with a micro USB port but has no microSD card slot. The device has a 3,000 mAh battery and comes with GPS (with A-GPS support) and Infrared.
The smartphone measures 138.5mm x 70.9mm x 8.9mm and weighs 143 gm. It will be available in white and black colours. It also has FM Radio with RDS. Additional features include answer me—automatically answers the call (after lowering the ringtone) when the phone is raised to one's ear; plug & pop—recommends options or related features to choose from when the earphone or USB cable is detected; text link—allows information embedded in text messages to be selected and easily saved in a memo or calendar; among others. Read here for detailed specifications of the device.
The company has also relocated all the physical buttons to the rear of the device, making G2 the first smartphone to be completely devoid of side buttons. The keys that have been placed at the rear of the smartphone (just under the camera) include the volume keys and the power button. Long-pressing on the rear-mounted volume keys allows users to launch 'QuickMemo' and the camera, for note taking and photo capturing, respectively. Also, if the smartphone is lying on a surface face up, there is no need to lift the phone to access the power button on the back. With a new feature called 'KnockON', the LG G2 can be powered on simply by tapping twice on the display.
As of now, telco Airtel already offers voice services on 4G LTE network for mobile phones in Bangalore. Reliance Jio is also expected to launch 4G services by September 2014, but until these services become wide-spread, only users in metropolitan cities would be able to make full use of a 4G LTE smartphone. Also, while the device offers more than decent specifications, the fact remains that LG does not have the brand power to demand an over Rs 45,000 price from its customers.
In addition, the company has also announced that it will be launching Lifeband Touch within Q2, 2014. Unveiled at the Mobile World Congress (MWC) late last month, the Lifeband Touch is a wearable computing device that offers fitness tracking and monitoring for its users.
---