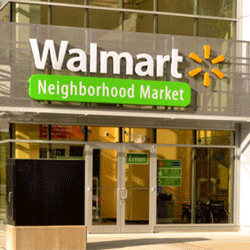 World's largest retailer Wal-Mart Stores Inc is planning to launch an e-commerce marketplace in India, allowing other smaller vendors to sell to consumers through its website and taking on its global arch rivals Amazon and eBay, according to a report by The Economic Times, citing sources.
According to the ET report, a team of 15-17 people including Wal-Mart India COO Arvind Mediratta and Steve Rodrigues, VP (operations) for India, has been working on the plans for the past seven-eight months, and the portal under a new brand name will go live in the next three-four months.
It added that initially the site will cater to 'wholesale consumers', which would be an extension of its existing B2B physical retail chain.
This development comes at a time when Wal-Mart is trying to rebuild its India strategy after a break off with its local partner Bharti Retail.
Wal-Mart bought Bharti Enterprises in their equal equity wholesale retail joint venture Bharti Walmart Pvt Ltd, marking a split in their retail venture. This gave Wal-Mart 100 per cent ownership of the 20 Best Price Modern Wholesale cash and carry business, which is open to only other sellers. FDI up to 100 per cent is allowed in wholesale retail business.
Bharti continues to independently operate neighbourhood retail chains under the Easyday brand spread across the north India region besides states like Maharashtra in the west and Karnataka in the south.
Early this year, Wal-Mart appointed Krish Iyer as president and CEO of Wal-Mart India.
Competition and strategy
Foreign investment in multi-brand retailing is allowed at present but with restrictive conditions such as veto power to state governments for stores in their regions, which has stumped Wal-Mart's India expansion strategy. Its JV with Bharti coming unstuck has affected its plans to sell directly to consumers.
An online venture could be a starting point to reach direct consumers against its existing operations which primarily caters to small retailers who can buy products from it as a wholesaler.
Currently FDI in e-commerce is not allowed but various firms have devised ways to circumvent the norms. Foreign investment is allowed in marketplaces as they provide an online platform to sell to consumers.
eBay has been present as a marketplace in India for years. Last year world's largest e-commerce firm Amazon launched its marketplace providing a platform for other vendors to sell on its platform even as it awaits a policy change which would allow it to sell directly.
In the meantime, the government is also looking to open e-commerce to FDI. If it does so, Amazon and others, which have already emerged as a big competition for Wal-Mart in other markets, could get a big leg up in India before policy is eased fully for multi-brand retailing, which can aid Wal-Mart. Other local retailers both offline (Big Bazaar) and online (Flipkart and Snapdeal among others) have also got a lot of traction.
Moreover, a marketplace would not be a new territory for Wal-Mart. It had integrated such a property with its global e-com site way back in 2009 and has been particularly bullish to push it to compete better against the likes of Amazon and eBay.
(Edited by Joby Puthuparampil Johnson)
---