India's overall tablet shipments in the calendar year (CY) 2013 stood at 4.14 million units, recording a year on year growth of 56.4 per cent over CY 2012. Interestingly, while the first half of 2013 witnessed substantial growth in tablet volumes driven largely by low-end devices, the market observed contraction in the second half.
Despite a strong festive season demand, spending on tablets slowed down in the second half as the consumer adoption approached early stages of maturity in this category of devices, according to International Data Corporation's (IDC) Worldwide Quarterly Tablet Tracker report.
A deep dive into the screen size trends highlights that there has been a growing acceptance for tablets with screen size of 8 < 9 inch. "The popularity of phablets has in fact crossed over the demand for 7 inch tablets. For a price conscious market like India, it is about owning a combination device, meeting the needs with one device instead of two," said Karan Thakkar, senior market analyst with IDC.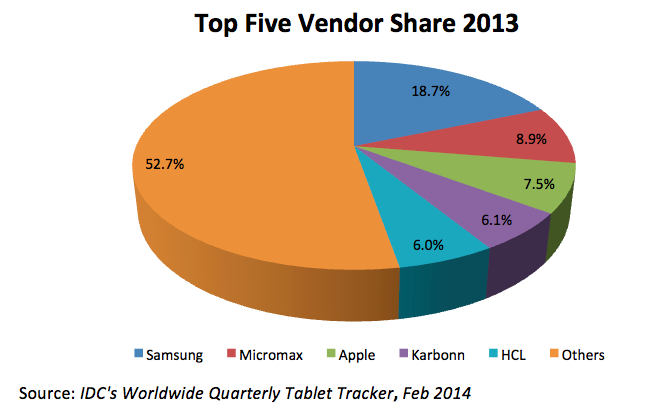 "Also, the return rates on low cost 7 inch tablets have been unexplainably large. First time users latching onto such devices are now looking to move to products that offer better experience in terms of life span and quality" he added.
Top vendors
Samsung maintained its leadership in the Indian tablet market with 18.7 per cent market share. While the company outperformed its competitors with a strong presence in 7 < 8 inch screen size, it had to scale down its volumes owing to changing market dynamics.
Homegrown handset and tablet manufacturer Micromax retained its number two position with 8.9 per cent market share, primarily due to its value for money proposition and concerted marketing efforts. Interestingly, Apple came in third with 7.5 per cent market share. The company showed significant growth in 7 < 8 inch screen size despite its niche positioning, and iPad Mini was well accepted by the market- supported by instalment payment options for consumers.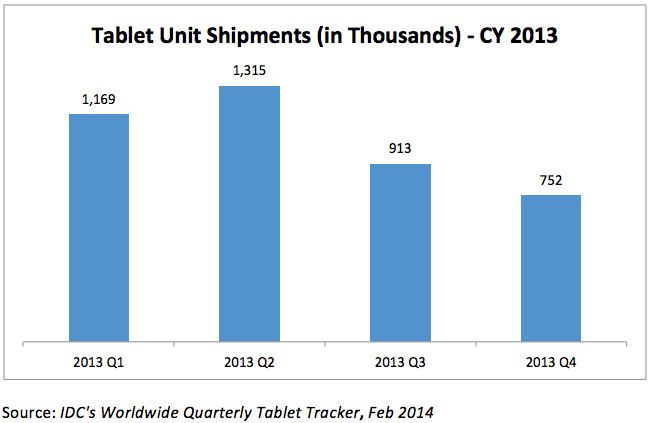 What's in store?
According to IDC, the overall tablet market will remain flat in CY 2014. "The Government mandate on Bureau of Indian Standards (BIS) certification mixed with the growing popularity of phablets is likely to obstruct the growth in the tablet category", said Kiran Kumar, research manager with IDC.
However, there has been an uptake in the adoption of tablets amongst commercial users. These are primarily meeting relevant needs in industries such as financial services, healthcare, media and education, amongst others. "Activities such as interactive digital presentations, collecting Know your Customer (KYC) documents, and point-of-sale transactions are typical use cases," concluded Thakkar.
---