While the Indian online retail market is in a nascent stage, it is growing rapidly. So much so, that research firm Forrester expects it to grow at a compound annual growth rate (CAGR) of more than 50 percent over the next five years to reach $16 billion by 2018. This will be an eight times increase from 2013, according to a Firstbiz report.
"Despite all of the existing challenges related to underdeveloped logistics and supply chain operations, poor last-mile connectivity, delivery rejections at the doorstep when cash on delivery (COD) payments are used, and low conversation rates, online retail in India grew by 67 per cent in 2013. Forrester expects India's online retail spending to grow at a CAGR of more than 50 per cent over the next five years as more Indian consumers start purchasing online," read the report.
As of 2013, India's population was 1.28 billion, out of which one in every six people had internet access. Among these, only around 14 per cent or 28 million users were actually making online purchases. According to the research firm, this number will increase to 128.5 million by 2018, accounting for 23 per cent of the total online population of the country at the time.
Mobile transactions have also witnessed a sharp increase with mobile commerce accounting for 10 to 15 per cent of all online retailer transactions in 2013.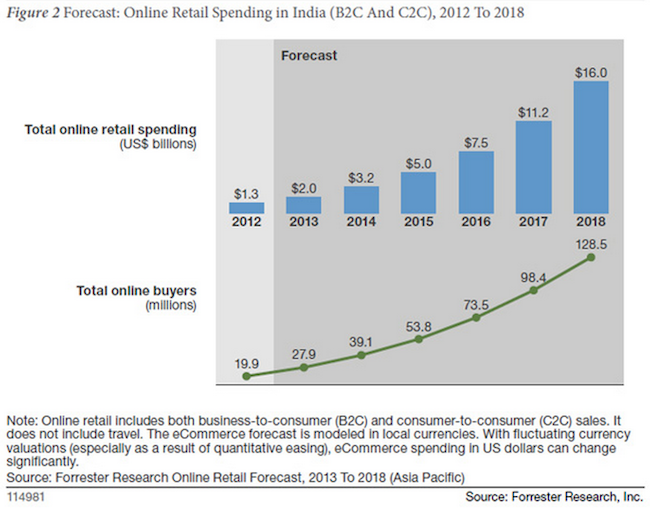 Non-metros ripe for picking
According to Forrester, tier-II and -III cities in the country are ripe for picking, mostly due to the relative absence of organised retail segment in these markets. And since the unorganised retail sector (the Kinara stores) cannot provide the large product selection offered by the bigger chains, it represents a large opportunity for online retailers to take a bite of the pie.
Also, to gain customer trust, Indian e-com players continue to offer high quality services that include quick troubleshooting facilities, strengthening their mobile presence as well as social media engagement.
Raising funds & meeting targets
Early this month, Delhi-based Jasper Infotech Pvt Ltd, which runs the online marketplace Snapdeal.com, has raised $133.77 million (Rs 830 crore) led by existing investor eBay Inc with participation from other existing investors, in the third-biggest funding round in an Indian tech firm. The new funding came in less than a year after it scooped $50 million from eBay, Japan's Recruit Holdings, Intel Capital, Russian venture fund ru-Net and Saama Capital. This round also saw participation from existing investors Bessemer Venture Partners, Nexus Venture Partners, Kalaari Capital (erstwhile Indo-US Venture Partners).
Prior to that (in Oct 2013), India's largest consumer e-commerce player Flipkart.com had raised an additional $160 million in the fifth round of funding started in July last year, from new investors, including Belgium-based Sofina, US-based Morgan Stanley Investment Management, Dragoneer Investment Group and Vulcan Capital (founded by Microsoft co-founder Paul Allen), along with participation from existing investor Tiger Global.
Flipkart Pvt Ltd, a Singapore-based holding firm, had previously raised $200 million from existing investors Naspers Group, Accel Partners, ICONIQ Capital, and Tiger Global in the first tranche of the group's fifth round of external funding. This added up to $360 million funding in its fifth round, the largest ever in India. The fresh funding took the total funding for Flipkart thus far to over $540 million.
Late last week, the company also announced that it hit $1 billion revenue run rate in GMV (gross merchandise value), one year before its target. Revenue run rate is the projected revenues based on sales in a month. The statement, in effect, means Flipkart sold products worth around $83 million or around Rs 500 crore last month. In comparison, India's largest retailer Reliance Retail reported sales of close to Rs 4,000 crore for the quarter ended December 31, 2013.
"In March 2011, we had announced that by 2015 we wanted to hit $1 billion in GMV. At that point in time, our run rate was $10 million. Today, we are really proud to announce that we have hit a run rate of $1 billion GMV one year before our target," Flipkart's co-founders Sachin Bansal and Binny Bansal said in a joint statement.
---