Entrepreneurs can create billion-dollar businesses faster by focusing on local problems: Nagaraja Prakasam of IAN Impact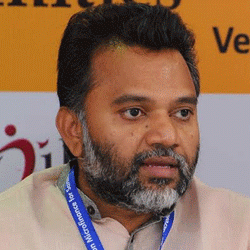 An angel investor and a member of the Indian Angel Network (IAN), Nagaraja Prakasam's focus is tech-enabled social ventures that cater to the bottom-of-the-pyramid (BOP) of the society. With this focus in mind, he joined hands with around 50 others last year to start a social investment unit IAN Impact. IAN Impact has so far invested in GoCoOp, an online marketplace for co-operative societies, and Gram Vaani, a social media platform for rural areas. Prakasam, who has backed several other ventures in an individual capacity, including Lumiere Organic, Consure, Orangescape, Gamiana, Stayzilla, UnBxd and Druva, is also a partner of US-based impact investment firm Acumen. In an interaction with Techcircle.in, he is sharing insights on impact investment and the startup ecosystem in India. Excerpts:
How do you balance the business side of impact investment with social returns? Where does India stand in terms of impact investment compared with other markets?
Angel investment is a risky business. At IAN Impact, we follow two things—longer gestation period and modest returns. IAN follows a gestation period of five years and the same is applicable to impact investment as well.
Although impact investment is common now globally, India is leading the way compared with other markets. Companies solving the problems of India's one billion people have another four billion people outside the country waiting for their solutions. If a product can be used to solve a problem in India, it can be used and scaled to other markets like Africa.
What is your reading about impact investment in India? Which segments are doing well? Which areas are hard to exploit commercially?
From a return perspective, the whole impact investment space in India is still emerging and is yet to be proven. However, wherever people are able to scale, the potential is pretty good. For example, in education and energy access spaces, there are huge opportunities for scalability. On the other hand, slow returns are expected wherever high capex is required. For example, cleantech is a high capital intensive industry. You are solving a major problem, but the scalability is low.
What, according to you, is restricting emergence of more billion-dollar companies out of India?
Well, Indian entrepreneurs should focus on solving the problems plaguing the domestic market and the people, rather than emulating and cloning ideas in Silicon Valley or Europe. What I feel is that young entrepreneurs should start looking at Indian conglomerates, instead of talking about Steve Jobs or dreaming of establishing the next WhatsApp. If you observe closely, you have plenty of problems in India itself to solve. Everybody is complaining about water and power shortage, lack of proper transport system, footpaths and roads, etc every day. Actually, each of these complaints is a business plan. If you develop products that can make the lives of one billion people in the country easier and if they pay you $1 a year, you can build a billion dollar business from the country in a few years.
There are just a handful of impact investors in India that can back domestic social ventures...
It is true that there are not many VCs that invest in social enterprises. I feel that if more success stories are happening in India, all VC funds will start looking at this segment. As of now, VCs are running after established companies like Flipkart. It is a resume building exercise for them. They know that they cannot go wrong by investing in such companies and they are winning the hearts by doing so. I believe that these investors could have supported hundreds of startups in India with the amount of money that poured into Flipkart.
However, lots of social enterprises are coming up from India. One of the best examples is GoCoOp. It is an online marketplace for co-operative societies and community-based enterprises to list and sell their products. This company has now become a multi-million dollar business and is getting bulk orders from overseas markets such as the US.
Can you share your thoughts on the startup ecosystem in the country?
We have a mature ecosystem, but we lack thought leadership in India. Many tech events are happening in India; all of them are discussing how we can build the next Facebook or WhatsApp. There is a perception problem as well. Today, Indians take pride in going to a shopping mall and buying handicraft Italian shoes worth Rs 1 lakh, whereas domestic handloom products don't get much attention, appreciation or value. This is hurting the economy. I feel that through intervention using technology, this can be changed. More success stories like redBus and Just Dial should come out of India. Companies like redBus, Stayzilla, iYogi, and Just Dial identified various problems and successfully solved them.
But there are companies in India which have scripted success stories in overseas markets...
There are some companies which have gone global. But there are not many. Our problem is that we always look at companies in the US or European markets as role models. I don't know why. We have many success stories in India who cater to the domestic markets. What I am saying is that we can use technology to solve problems in agriculture and other areas. Entrepreneurs should come out of the comfort zone and do something for the society instead of cloning a product widely used in foreign countries.
On the other hand, foreigners come to India and start ventures for the Indian markets. A few months ago, a US entrepreneur came to Madurai in Tamil Nadu and set up a drip irrigation technology for farmers. He now has got a number of customers. Foreign entrepreneurs are more intelligent than us in identifying a problem and solving it.
Although there have been some success stories, in general investors feel that not many successful exits are happening from India…
Most Indian entreprezneurs have a great technology background, but they lack the capabilities to take their venture to the next level. As a person, he does not know who he is or what his capabilities and weaknesses are. Secondly, even if entrepreneurs know their weaknesses, they will not tell it to anybody because they are too insecure about it. So when a company fails, entrepreneurs go hiding. Failures are not celebrated in India, whereas in the US if one shuts down a company, he calls himself a serial entrepreneur. With this fear, an Indian entrepreneur is not able to hire appropriate people. Indian entrepreneurs also lack the ability to find the right talent that can complement their skills. You know why Bill Gates hired Steve Ballmer as CEO? It was just because Ballmer was a great seller who can sell anything.
(Edited by Joby Puthuparampil Johnson)
Comment(s)