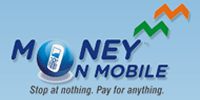 Calpian Inc, a US-based electronic payment solutions company, has raised $1 million from Craig Hall, founder chairman of Hall Financial Group, as the first tranche of a $5 million commitment, to fund its growth plans in the home market besides supporting its Indian subsidiary My Mobile Payments Ltd (MMPL).
The firm did not disclose how much of the total will be invested in MMPL.
MMPL runs pre-paid mobile payments services under the brand Money-On-Mobile. With Money-On-Mobile, consumers can use their mobile phones to pay for goods and services, or transfer funds from one cell phone to another using a simple SMS text functionality.
In India, Money-On-Mobile has served over 84.3 million unique phone number customers to date and has over 179,000 retail partners offering the service.
Last month, MMPL had raised funding from a team of Silicon Valley executives led by Babu Vinod Sivadasan, executive vice president (product development of Envestnet Inc) and CTO of Stamps.com.
"The global market for mobile payments is rapidly expanding with India being the most compelling market of all," said Craig Hall, chairman and founder of Hall Financial Group. "Calpian's technology is providing a range of new financial solutions that will make a difference in the lives of a large group of consumers in a country I have always found fascinating. With this investment, we hope to help expand Money-On-Mobile's already successful presence in India," Hall said.
"Craig has agreed to advise the company on financial matters for three years, and I look forward to working with him to bring his experience and expertise to Calpian for the benefit of the company and all our shareholders," added Shashank Joshi, CEO of Money-On-Mobile.
Hall's investment takes the form of Series C preferred stock which can convert into Calpian's common stock on the same terms as the company's next equity raise.
Mobile payments is one of the hottest sectors which has seen many investments in India. Recently, Bangalore-based payment solutions provider Innoviti Embedded Solution Pvt Ltd raised Rs 10 crore ($1.6 million) from Tata Capital and a group of HNIs (High Net-worth Individuals) based out of India and London. Ezetap Mobile Solutions Pvt Ltd, another Bangalore-based mobile payments service provider, also raised an undisclosed amount from American Express recently.
Last month, Mumbai-based mobile POS services provider Mswipe Technologies Pvt Ltd raised funding led by existing investor Matrix Partners. In January this year, Delhi-based Cobboc Pvt Ltd, which offers a mobile-based payments app Eashmart, raised an undisclosed amount in funding from IIM-A's tech incubator CIIE and two unnamed angel investors. In the same month, Bangalore-based mobile payment solutions provider iKaaz raised an undisclosed amount in seed funding led by Ananda Kallugadde, managing director of NeoBytes Software Solutions.
(Edited by Joby Puthuparampil Johnson)
---