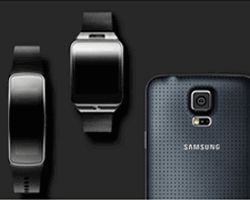 After unveiling the same late last month, Samsung has now set a date for the official introduction of Galaxy S5 smartphone in the Indian market. The company has begun sending out invites for the unveiling, which will be held later this week (March 27, 2014). Along with the smartphone, the company will also introduce Galaxy Gear Fit, a super AMOLED fitness-themed watch.
Here is a look at the specifications of the devices.
Galaxy S5
The Galaxy S5 comes with a fingerprint scanner and dust- and waterproof capabilities. It offers a 5.1-inch Super AMOLED full HD display and comes with a 16MP camera with improved menu and user interface. It also gets a 2.1MP front-facing camera. An additional 'Selective Focus' feature allows users to focus on a specific area of an object while blurring out the background.
The plastic-built Galaxy S5 also adds a heart-rate monitor just below the camera module has fifth generation Wi-Fi 802.11ac and comes with 4G LTE. The smartphone provides a comprehensive personal fitness tracker to help users monitor and manage their behaviour, along with tools including a pedometer, diet and exercise records, and a new, built-in heart rate monitor.
However, there is no major change in terms of, barring that its home button also functions as a finger-print reader.
Pricing & availability
While the company is yet to put a pricing to the Galaxy S5 in India, considering the fact that the device is nothing revolutionary or path-breaking in comparison to the Galaxy S4, we feel it should lie in the under Rs 45,000 price range.
And while the official global launch date for the device is set to April 11, 2014, the company will start offering the device for pre-order post its unveiling in the country. For those who don't already know, Samsung often starts pre-booking of products on its eStore before they get launched in the market. The pre-booking amount varies from product-to-product, and can be full or a part of final price. A pre-booked order once placed cannot be cancelled by the customer, and COD payment option is not available for the same.
Galaxy S4 was launched in India in April last year for a price of Rs 41,500, and is now available for as low as under Rs 30,000 (Rs 29,860 to be exact).
Gear Fit
The device keeps consumers up to date with instant notifications from Galaxy smartphones such as incoming calls, emails, SMS, alarm, S-planner, third party apps while consumers are on the move so they can stay connected. Changeable straps in black, orange and mocha grey will let users express their individual style, changing the look of the Gear Fit to match their outfit or mood for any type of activity.
The technology used in the device also enables the user to get custom, real time fitness coaching to provide unique, personalised advice and workout recommendations.
---