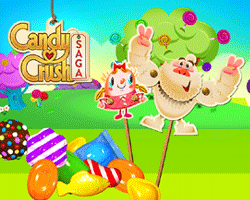 In the weeks leading up to the IPO of King Digital Entertainment, the company's bankers scrambled to persuade investors that the maker of popular online game "Candy Crush Saga" was more than a one-trick pony, according to a source familiar with the situation.
As the debut approached this week, the bankers' job only got harder. On Tuesday, Facebook Inc said it would pay $2 billion for Oculus VR, a two-year-old virtual reality startup that has yet to put a product on the market. Facebook CEO Mark Zuckerberg described the deal as the social media giant's desire to bet on "the platforms of tomorrow."
But for some investors, the deal brought back memories of the Internet boom and bust in 1998-2001, where profitability and other financial fundamentals of companies took the back seat to a raging fad about anything with a dotcom identity, according to the source.
Bankers underwriting King Digital's offering had to call in favors with investors who had received large allocations in previous successful IPOs, the source said. As a result, King Digital priced the offering at the mid-point of its range of $21 to $24. But its shares tanked in Wednesday's debut, falling 16 per cent and fell further on Thursday and Friday. King Digital could not be reached immediately for comment.
Wall Street bankers are now looking at the disappointing opening as a sign that investors are getting more cautious about the IPO market, especially when it comes to technology and biotechnology stocks. Although bankers said companies waiting in the wings so far seemed to want to forge ahead with their IPO plans, the realization is likely to moderate expectations on the size of offerings and valuations.
"You realize that people are going to be a little bit more cautious. You realize that the valuation needs to be reflective of that cautiousness," said Sam Kendall, global head of equity capital markets at UBS AG.
That would mark a sharp turning point for the IPO market, in which investors have been fed a steady diet of new public offerings this year from companies yet to turn a profit. More than 50 IPOs have priced in 2014, and two-thirds of those are unprofitable, according to Renaissance Capital, an IPO investment advisor.
Still, companies that have gone public this year have seen their shares rise 33 per cent on average from their offer prices, according to Dealogic.
Next test
"The market has gotten ahead of itself, and you're seeing a pause in speculation, especially for biotech and some of these new tech names," said Eric Green, senior portfolio manager and director of research at Penn Capital Management in Philadelphia, which oversees $7.5 billion.
"Other issues, like Ukraine or whatever, end up being an excuse to take money off the table, but the fundamentals behind these companies haven't changed, just the valuations over them. Those are coming back to earth," he added.
The next test for the market could come as early as next week, when a series of technology companies are due to list, including online food delivery service Grubhub.com, healthcare IT company IMS health, and software maker Five9.
Bankers said the investor caution is more of a correction rather than a sign that the market was shutting down for new offerings.
While investor worries about frothy valuations is giving pause to some companies in the technology and biotech sectors, companies in other industries are still forging ahead, betting that there will be enough demand for their stock.
In financial services, for example, the U.S. Treasury announced plans to sell nearly 23 per cent of Ally Financial Inc through an initial public offering to raise as much as $2.66 billion.
One source familiar with the situation said by buying Ally investors would pay for "a value story," unlike "the growth story" sold in technology and biotech IPOs.
Still, both the Treasury and Ally would have liked to be able to sell the entire government stake in the bank in one go, sources have previously said. The Treasury will still be left with a stake in the bailed-out bank after the IPO.
A spokesman for the U.S. Treasury and a spokeswoman for Ally declined to comment.
Separately, sources familiar with the matter said on Thursday that aircraft lessor Avolon was preparing for an IPO this year as it looked to take advantage of a recent boom in aircraft finance, driven by an expectation that air travel will continue to grow.
Even in the technology sector, bankers said companies such as Alibaba Group Holding Ltd, the Chinese e-commerce company, are likely to find sufficient demand when they come to market.
Alibaba is expected to file for a listing in the United States as early as April with IPO proceeds that could exceed $15 billion.
"All kinds of industries have been represented in IPOs, but it's the splashy Internet ones that have been in the news," said John Carey, portfolio manager at Pioneer Investment Management in Boston, which has about $220 billion in assets under management.
"People are exercising caution, and I'd be more concerned if they were willing to pay anything at all," Carey added. "If demand was robust for anything that came down the pike, that would trouble me."
---