In a development that may spell trouble for Apple enthusiasts in the country, the company is all set to increase prices of apps on its iTunes App Store. The changes will be made within the next 24 hours, and App Store retail prices will be increased for the Indian Rupee, as well as for four other currencies including Australian Dollar, Indonesian Rupiah, Turkish Lira and South African Rand.
According to Apple, the increase in prices is being done to account for changes in foreign exchange rates. In comparison, retail prices for Israeli New Shekels and some price tiers for the New Zealand Dollar will be decreased. For those who don't already know, price adjustments on the App Store are made periodically due to changes in foreign exchange rates.
Customers will be able to see the new 'Pricing Matrix' in the Rights and Pricing section of Manage Your Apps on iTunes Connect. Updates to iOS paid applications and Mac OS X paid applications contracts will also be available on the iTunes Connect website.
However, the company has not yet disclosed what the new conversion will be.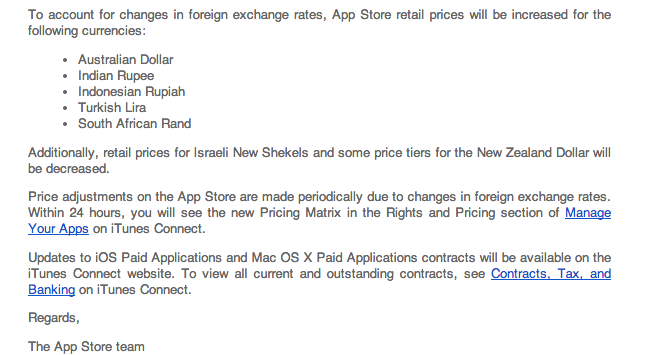 According to a TechCrunch report, the price hike could very well also be a result of the fact that apps are becoming an increasingly key part of the company's business as it competes against Google Play.
"In its Q1 2014 earnings statement, Apple reported that its iTunes/Software/Services business made up $4.397 billion of its total $57.59 billion in quarterly revenue, representing 19 per cent growth year-over-year and 3 per cent sequentially. During that quarter, Apple paid out $2 billion to developers, a record amount and about two to three times what it paid in the period a year ago," read the report.
Why now?
But what's interesting to note is the fact that the company is increasing prices of apps for India at a time when the Indian Rupee is actually recovering against the US Dollar. In fact, the Rupee had penetrated the 60 per Dollar mark just last week (Mar 28, 2014), rising to its strongest level in over eight months.
And while this might have led some of you to believe that it could be an April Fools' Day prank by the company, regrettably this time around it isn't.
As of now, an app that costs 0.99 on the US App Store is available for Rs 55 on its Indian counterpart. Considering the current exchange rate (mentioned above), the revised rate according to our estimates could be close to Rs 60 to a dollar.
---