Samsung launches its flagship Galaxy S5 smartphone in 125 countries; priced at Rs 51,500 in India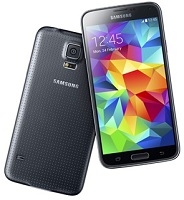 After unveiling the same in Feb this year, Samsung has finally launched the Galaxy S5 smartphone in 125 countries including the US, Europe, the Middle East, Latin America, and most Asian markets, including India. While the company had introduced the device in India late last month, it had not disclosed its exact pricing. The smartphone has been priced at Rs 51,500 in the country.
Interestingly, while the set norm is that smartphones are available cheaper on e-commerce sites post their launch, home grown e-com giant Flipkart.com is actually selling the device for Rs 53,499, which is almost Rs 2,000 more than its MRP. Samsung claims to have already sold over 3.5 crore Galaxy devices in India till date. This number includes all Galaxy smartphones and tablets from the company.
While the device has been launched in four colours including charcoal black, shimmery white, electric blue and copper gold, as of now, only the white and black variants are available on the Samsung India eStore.
Here is a look at the specifications of the device.
In India, the company has chosen to launch the Galaxy S5 variant that is powered by a 1.9GHz Exynos octa-core processor. In comparison, the European and North American Galaxy S5 versions come with a 2.5GHz Qualcomm Snapdragon 801 processor. What this basically means is that you can say bye bye to 4G LTE support in the country. Users will get a choice between 16 and 32GB of internal memory, which can be further expanded up to 128GB with a microSD card.
The Galaxy S5 comes with a fingerprint scanner and dust- and waterproof capabilities. It offers a 5.1-inch Super AMOLED full HD display (1920 x 1080 pixel resolution) and comes with a 16MP camera with improved menu and user interface. It also gets a 2.1MP front-facing camera. An additional 'Selective Focus' feature allows users to focus on a specific area of an object while blurring out the background.
The plastic-built Galaxy S5 runs on the latest Android 4.4.2 (KitKat) operating system and also adds a heart-rate monitor just below the camera module. On the connectivity front, it has Bluetooth 4.0, Wi-Fi, 3G, Infrared and NFC, as well as a microUSB port and a microSD card slot. The smartphone provides a comprehensive personal fitness tracker to help users monitor and manage their behaviour, along with tools including a pedometer, diet and exercise records, and a new, built-in heart rate monitor.
The dimensions of the device are 142 mm x 72.5 mm x 8.1 mm and its weight is 145 gm. The company has provided a 2,800 mAh battery in the device, which it claims will provide up to 21 hours of talk time and 390 hours of standby time. However, there is no major change in terms of, barring that its home button also functions as a finger-print reader. The smartphone will be available in charcoal black, shimmery white, electric blue and copper gold colour options.
Here is a hands-on video of the device
Getting the pricing wrong!
Considering the fact that the device is nothing revolutionary or path-breaking in comparison to the Galaxy S4, we had thought that a sensible pricing for it would lie in the under Rs 45,000 price range. However, at an over Rs 51,000 pricing, we don't see many takers for the device, which had even disappointed hardcore Samsung fan boys.
In terms of competition, it will face off against the likes of Apple's iPhone 5S (starting at Rs 48,300 for the 16GB model), Sony Xperia Z2, and the recently unveiled HTC One M8- prices of both not available as of now, but the companies also have a tendency of over-pricing their smartphones in the country.
Also, is the device worth the extra 22,000 when compared to its predecessor? Galaxy S4 was launched in India in April last year for a price of Rs 41,500, and is now available for as low as under Rs 30,000 (Rs 29,860 to be exact) - we feel not.
Comment(s)