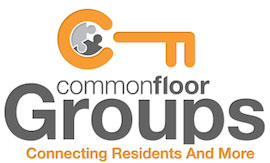 Bangalore-based maxHeap Technologies Pvt Ltd, which owns real estate and apartment management portal CommonFloor.com has launched a new version of its apartment management offering called CommonFloor Groups. According to the company, the new offering will provide apartment communities across the country better communication, management and coordination amongst residents, owners (residents or non-residential landlords) and Resident Welfare Associations (RWAs).
Currently over 1 lakh communities already deploy the company's apartment management offering and would be the first beneficiaries of the new version. Users can access CommonFloor Groups through a new microsite www.groups.commonfloor.com. Here is a look at what's on offer:
Features for owners (residential and non-residential):
Every user with a CommonFloor Group account will be provided a direct login. With it, they can voice concerns and bring important issues to the attention of other residents and the RWA. They can also track the status of an issue online.
They can also use the payment gateway for online payments like maintenance fees, etc. or access the repository of home service vendors like carpenters, architects, plumbers for day to day home repairs and maintenance.
Users can buy, sell or rent belongings within the community. They can find and reach out to neighbours with common interests, and also form interest groups like photography, yoga, and football, among others.
Benefits for RWAs
Since the offering provides functions similar to Enterprise Resource Planning (ERP), RWAs can use the platform for management of all aspects of the community. The system allows the administrators to manage accounts, delegate activities, set reminders, send notices, monitor complaints, and manage parking.
With it, administrators can also keep track of vacant houses, collect dues and generate receipts, and use the platform's SMS and email services to circulate important messages among residents.
"We have been working with apartment communities for nearly seven years now, and CommonFloor Groups is the result of the knowledge we have gathered over these years. Apart from a more efficient product, this version also provides a new identity to the CommonFloor.com's apartment management offering," said Vikas Malpani, co-founder and head – communities, CommonFloor.com.
Going forward, the company is also planning to launch a mobile app for CommonFloor Groups. The app will allow residents to use all the features offered by CommonFloor Groups and will be available for download on Android, iOS and Windows platforms.
Founded in 2007 by Sumit Jain (CEO) and Lalit Mangal (both have degrees in computer science from IIT Roorkee), along with Malpani, a computer science graduate from Visvesvaraya Technological University in Belgaum, Karnataka, CommonFloor combines property search, apartment management and vendor management. It also facilitates interactions within an apartment community (on the 'common floor' platform) and connects people to relevant service providers.
The portal is free for end-users but the firm charges businesses for listing, marketing and advertising on its site. The fee starts at Rs 10,000 and can go up to Rs 5 lakh depending on various factors. It claims to offer over 1 lakh projects listed from 120 cities in the country.
In Jan this year, the company had raised Rs 64 crore ($10.4 million) in Series D round of funding from existing investors Tiger Global Management and Accel Partners. At the time, the company had mentioned that the capital will be used for product development, building on its research expertise in the real estate domain and also to fuel growth through new marketing initiatives.
Prior to that, it had raised $7.5 million in Series C round, as well as an undisclosed amount in Series B from the same investors in July 2013 and Oct 2012 respectively. It had raised Series A funding from Accel Partners around four years ago.
---