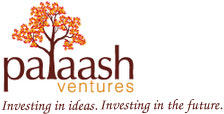 Palaash Ventures, a Delhi-based early-and-growth-stage VC fund, has invested in seven companies across verticals since its inception early last year and plans to keep this investment momentum in the future. The firm is looking to back five-seven firms every year, according to a top company executive.
Palaash, which invests Rs 1-1.2 crore ($165,000-200,000) on an average, is also close to investing in a hardware firm.
"We are a sector-agnostic and proprietary fund with investments across verticals. Our investments range from software to hardware to agri-businesses," said Priya Mukherjee, founding partner at Palaash. "The investment can go up to Rs 2.5 crore, depending on the company," she added.
Palaash was set up by a team of five – Piyush Goyal, Tapesh Singhi, Rajesh Mehra, Priya Mukherjee and Annu Batra. A B Tech with MBA, Goyal had earlier worked at NDTV and Network18. He is also a founding member of cable TV major DEN Networks. Singhi holds an MBA degree and previously worked at Network18, ICICI Bank and Wockhardt. Mishra is a Chartered Accountant and has experience in manufacturing, media and publishing. Mukherjee is an MBA and had earlier worked at Network18, Discovery Channel and Sony. She was also involved with DEN Network in South India. Batra is an MBA and had earlier worked at Network18.
Palaash essentially invests in companies, which have some kind of validation—either in terms of traction or revenues. The fund prefers to invest in ventures, which are scalable and have a global value proposition, in return for equity. It largely follows a co-investment model and has invested along with Blume Ventures, Google's Rajan Anandan, Ronnie Screwvala's Unilazer and IDG Ventures. Its portfolio companies include VoxApp, EcoSense, Safe Harvest, TravelKhana, and SilverPush.
"We basically look at three things before investing in a company "the promoters/founders, scalability and the possibility of Intellectual Property (IP), in that order. Most of the businesses we have invested so far have got a large addressable market. We will also consider foreign firms with Indian founders to provide capital," said Abhishek Kumar, head (investments) at Palaash.
According to Mukherjee, since Palaash is a proprietary fund, there is no pressure to invest in a particular sector or particular number of ventures every year. "We are not chasing quantity but quality. However, we are basically looking to invest in 5-7 companies a year," she noted.
Talking about the current tech trends in India, Kumar said that over the past one year, Palaash saw a lot of hardware companies emerging from India. "Many companies with hard core products have come to us. What is heartening is that all these products are conceptualised, designed and developed in the country. Nowadays, Indian companies are devising a global product, which definitely is a positive trend," he said.
(Edited by Joby Puthuparampil Johnson)
---