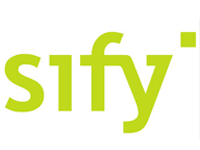 NASDAQ-listed Sify Technologies Ltd, which provides managed enterprise, network, IT and software services, has reported a net revenue of Rs 263 crore for the quarter ended March 31, 2014, against Rs 231.7 crore last year. Net profit for the quarter was Rs 4 crore compared with net loss of Rs 1.6 crore a year ago.
EBITDA for the quarter was Rs 31.8 crore compared with Rs 23.6 crore last year.
Sify's revenue for the full year ended March 31, 2014 rose 22 per cent to Rs 1,046 crore. Net profit for the period was Rs 37.3 crore against Rs 45.2 crore the previous year. The net profit for the previous year included a one-time gain of Rs 65.8 crore from sale of stake in an associate company. EBITDA for the year is Rs 162 crore, compared with 77.9 crore the previous year.
"In FY 13-14, we had an all-round growth on revenue, fresh order bookings and profitability in an otherwise challenging business environment. Our engagement flavour with both existing and new clients has undergone significant changes over the previous years in terms of increased percentage of services mix, average deal size and confirmed multi-year services contracts. Productivity per sales headcount has also seen significant improvement, which has laid the foundation for further improvement in the coming years," said Sify's CEO Kamal Nath said.
"The current incurred costs from ongoing projects, combined with the cautious economic environment heading into elections this year, has put pressure on our earnings in the current quarter, emphasizing the need to continue to manage our costs and investments carefully until we see definitive signs of a stronger economic outlook," Sify CFO MP Vijay Kumar said.
Key growth figures in fiscal 2014
The telecom business grew 73 per cent over the previous year. In the telecom services segment, Sify added more than 1,000 large and emerging enterprises for their various services.
The cloud and managed services grew 116 per cent over the previous year. This business vertical added 80 new customers across various verticals.
The application integration services vertical grew 71 per cent last year and added more than 40 customers.
The technology integration business grew 89 per cent.
In the last quarter, the firm opened a data center in Noida.
(Edited by Joby Puthuparampil Johnson)
---