LG G Pro 2 phablet available for Rs 49,900 in India; device comes with 5.9 inch display & ultra-HD recording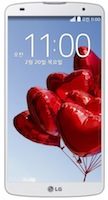 Unveiled in Feb this year, LG Electronics's G Pro 2 phablet is now available for purchase online in India for Rs 49,900. The successor to the original G Pro phablet, the device sports a slightly bigger display than its predecessor and new UX features. However, the fact that the company is all set to launch is next flagship device LG G3 in the coming weeks, undermines the phablet launch in itself. Which makes us wonder why did LG time the launch of the device so poorly in the country.
Here is a look at the specifications of the device.
The phablet has a 5.9-inch full HD IPS display (1920 x 1080 pixel resolution) with 373 ppi pixel density and runs on the Android 4.4 KitKat operating system. It is powered by a 2.26 GHz Qualcomm Snapdragon 800 quad core processor with Qualcomm Technologies' Adreno 330 GPU, and has 3GB of RAM. Users can choose between 16 and 32GB of internal memory, which can be further expanded up to 64GB with a microSD card.

LG G Pro 2 has a 13 MP autofocus rear camera with LED flash and Optical Image Stabilizer Plus (OIS+) that is capable of 4K Ultra HD recording for playback on 4K TV sets. Users can also record in 120fps HD and the camera allows editing of the video in three different speeds — one-half slow motion, one-fourth slow motion as well as original. In addition, the device has a 2.1 MP front-facing camera for video calling.
Some of the other advanced image capturing features built into the G Pro 2 include Magic Focus- after a shot is taken, user has the option to select the preferred depth of focus before saving; Natural Flash- offers a much more balanced color temperature and exposure compared to the normal flash; Flash for Selfie- reduces the size of the preview screen and adds a bright white background for more 'soft' lighting in self-portrait mode; Burst Shot- takes up to 20 continuous shots and automatically edits them to create a video of the captured images; and Gallery Collage- allows users to select photos from their gallery to create a collage for easy uploading to social network sites.
On the connectivity front, the device has Wi-Fi, Bluetooth 4.0, 3G and 4G LTE, as well as a microSD card and microUSB port. The dimensions of the device are 157.9mm x 81.9mm x 8.3mm and its weight is 172 gm. LG has provided a 3,200 mAh battery in the device, which also comes with Near Field Communication (NFC). It will be available in titan, white, and silver colours.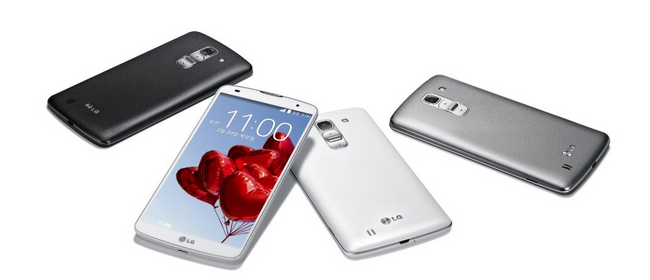 The company has also provided a number of additional features that include Content Lock- provides users more security with the ability to lock files, photos, videos and memos with a password; Mini View- enables users to use the device with one hand by shrinking the display to a size ranging from 3.4 inches to 4.7 inches, depending on the user's preference; and Dual Browser- divides the expansive screen into two separate browser windows for more convenient surfing. The company has also provided thicker, high-power 1W Hi-Fi sound that it claims is 30 per cent louder than in the G Pro. It is available in titan, white and silver colours.
In terms of its pricing, the device will face off against heavy hitters like HTC One Max (Rs 53,755) & One M8 (Rs 49,850), Samsung Galaxy S5 (Rs 48,499), Apple iPhone 5S (prices starting at Rs 48,104 for the 16GB model), Nokia Lumia 1520 (Rs 45,999), and the soon to be launched Sony Xperia Z2 (price not available as of now), among others.

---