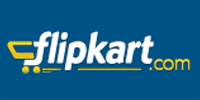 India's largest consumer e-commerce platform Flipkart is launching an annual subscription service for its customers who wish to get exclusive benefits and have access to priority service.
By subscribing to Flipkart First, customers will get exclusive access to a bouquet of benefits including in-a-day guarantee delivery. The purchased items will be delivered within a day's time with unlimited access to in-a-day guarantee delivery.
The standard delivery will be free with no minimum purchase price. However, for those who want the order delivered the very same day will get access to its same-day guarantee delivery at a discounted price. Customers will also get the additional bonus of 60-day replacement guarantee instead of the standard 30-day replacement guarantee.
Certain benefits like in-a-day guarantee delivery and same-day guarantee delivery are available in specific locations only at present and customers would be able to avail only those benefits that are available in their location. The company informed that around 75,000 customers will be randomly picked for the free three-month subscription.
It has not yet disclosed the pricing of this annual service.
In 2005, world's largest e-commerce company Amazon had launched an annual subscription service called Amazon Prime, which offers free two-day shipping on all eligible purchases, along with discounted one-day shipping rates. The service is currently available in the US, Japan, the UK, Germany, France, Italy and Canada.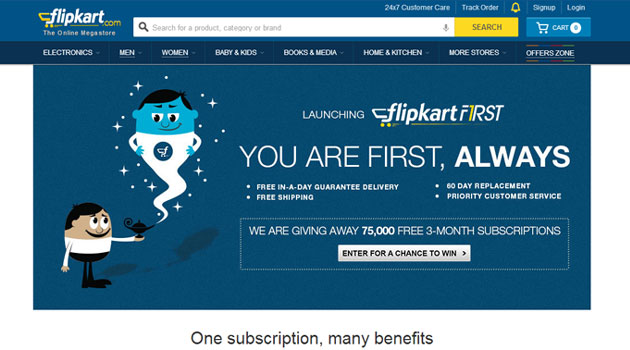 Flipkart is the most heavily-funded e-commerce company in India. Last month, Flipkart had announced same-day delivery in 10 major cities of India for an additional shipping fee of Rs 200. With this service, customers can place their orders by 12 noon on a business day to have their orders delivered to them by 9 pm on the same day. Currently this service is available in Bangalore, Delhi, Mumbai, Kolkata, Noida, Gurgaon, Faridabad, Manesar, Navi Mumbai and Thane, and will soon be scaled to other cities as well.
The company is in talks to acquire and merge online apparel and accessories retailer Myntra. However, the proposed merger seems to have hit a roadblock, with Myntra's co-founder and CEO Mukesh Bansal wanting to operate independent of Flipkart, post-merger.
---