Jaipur-based Sharp Edge Learning Pvt Ltd, which provides digital learning material to the aviation sector in both on-ground and in-flight operations, claims to have trained more than 3,500 learners to date. The startup, which provides content to a few major international airports in the Gulf Cooperation Council (GCC) and Europe for training their employees, is now looking to rope in more than 10,000 learners this year.
The company was founded in 2011 by BITS Pilani alumni Arpit Mehta, Harshit Gupta and Sourabh Gupta (Harshit and Sourabh are not related). Mehta had previously founded Edventure Labs where he developed education apps to accelerate the overall brain development of kids aged between and 5 and 12. While Sourabh had earlier worked at JP Morgan, Harshit founded Foreigninternship.com, which helps students find lucrative internship opportunities across the globe.
A BITS Pilani incubatee, Sharp Edge was originally started as an e-learning venture for the engineering, K-12 and medical sectors. According to the company, over 50,000 students from more than 70 colleges have used its e-learning solutions to date. The company later diversified into the aviation segment.
Sharp Edge has developed a learning community for aviation professionals, and caters to all the learning needs of aspirant pilots, aircraft maintenance engineers and on-ground operations staff. While the solution incorporates multimedia interactive content and adaptive assessment engine to learners, it also lets them interact with fellow learners to ensure peer learning.
Key target market
"We have a strong network in GCC and Europe and naturally these are our key target markets. However, we would like to move to North America and Australia next year, since all these geographies have well-developed infrastructure to support e-learning initiatives," said Mehta. "India is still a very nascent market for aviation solutions. However, we expect the market to open in another four-five years," he added.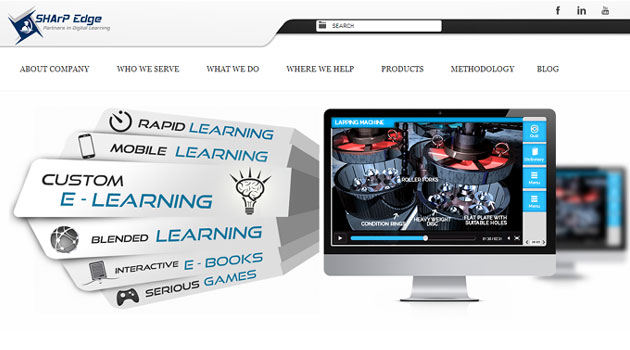 Sharp Edge has partnered with flight schools and training academies across various countries, where it also provides support for instructors and regular updates year-on-year. Learners can sign up on its portal to access the solutions. Mehta says that the firm turned profit after tax (PAT) positive in FY14, and has an order book of $150,000 in aviation, at present.
In terms of challenges, Mehta said that the aviation sector is a closed space and so making inroads in it is hard. "It was really tough to penetrate the market initially, since the content creation and subject matter required high expertise compared with other sectors. But that has been one of our strong points."
With 40 people on board, the startup is largely competing with the brick-and-mortar training institutes in the aviation sector. A self-funded company to date, Sharp Edge is now looking to raise capital to fund its growth. "We are still contemplating internally on the size of our requirement. While product development will consume a small portion of the money, a major chunk will be used for growth and expansion," Mehta said.
(Edited by Joby Puthuparampil Johnson)
---