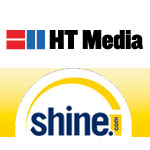 Media and publishing group HT Media Ltd has said its digital business revenues for the quarter ended March 31, 2014 grew 42 per cent to Rs 76 crore from Rs 53.8 crore the previous year. HT Media's digital businesses include the job portal Shine.com (which competes with the likes of Naukri.com), HT Mobile and HTCampus.com, among others.
Revenues from HT Mobile, which offers value-added services, digital content distribution and digital marketing on mobile, rose 65 per cent, while the Shine.com revenues grew 58 per cent.
"Our diversification strategy has worked well. Our digital businesses have delivered strong growth and our radio business continues to grow both revenues and profits," said Shobhana Bhartia, chairperson and editorial director of HT Media.
HT Media, which publishes the English daily Hindustan Times and the business daily Mint, among other publications, reported a 12 per cent increase in its overall revenues in Q4 which grew to Rs 585.9 crore from Rs 525.2 crore last year. However, its profit after tax for the quarter declined 13 per cent to Rs 34.8 crore from Rs 40.1 core last year.
Last July, HT Mobile Solutions had acquired the digital marketing agency Webitude for an undisclosed sum.
(Edited by Joby Puthuparampil Johnson)
---