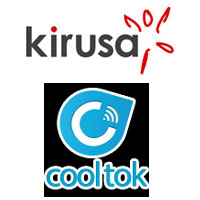 New Jersey-headquartered Kirusa Inc, which provides voice messaging and social media apps for smartphones, has acquired Bangalore-based mobile messaging apps developer Plusray Innovations Pvt Ltd, which operates under the brand Cooltok. As per the deal, Kirusa has acquired the technology, workforce and intellectual property of Cooltok.
With this acquisition, Kirusa is looking to bring the next generation of messaging apps to mobile users by working with mobile carriers around the globe. The acquisition also strengthens Kirusa's intellectual property in the area of mobile apps.
Post the deal, Cooltok's co-founders will join Kirusa's office in Bangalore.
"The IP-based technologies that we developed for mobile apps, when combined with the product portfolio of Kirusa and the reach of its partner base across continents, will enable us to address a huge opportunity going forward," Cooltok's CEO Sreenivas Karanam said in a statement.
Cooltok was founded in December 2012 by the trio of Karanam, Prakash Kaja and Thomas Mathew. Cooltok is a VoIP (Voice over Internet Protocol) product for smartphones that can be used for making free calls, sending text messages, managing voice and group chats and sharing pictures and files.
Founded by IIT Delhi alumnus Inderpal Singh Mumick (CEO), Kirusa develops voice and social media mobile apps for emerging markets. Kirusa's InstaVoice app integrates telecom messaging such as SMS, voice SMS, missed calls and voicemail, with over-the-top (OTT) messaging such as texts, pictures, location, videos and group chat, through its partnerships with dozens of mobile carriers around the world. The company claims that InstaVoice is used by over 80 million mobile users monthly in four continents. Kirusa solutions are built on its scalable open multimodal platform, which processes over one billion events a month. The company has offices in Bangalore and Delhi in India.
"The technology developed by Cooltok's team, as well as their knowledge and experience, will be invaluable in delivering the third wave of messaging apps that look to combine the benefits of the carrier services with the benefits of the OTT services. Kirusa is expanding globally and we will continue to make use of opportunities for partnerships and acquisitions that will help us realise our vision of providing seamless messaging and social media experience to all mobile users, regardless of their devices, and regardless of their mobile network," said Mumick.
(Edited by Joby Puthuparampil Johnson)
---