Just Dial replaces Google Maps with own offering JD Maps for directions on its platform; what's on offer?

Mumbai-based Just Dial Ltd, which runs the online business directory Justdial.com, has replaced Google Maps with its own offering called 'JD Maps' for direction on the Just Dial platform. The maps are available on the Just Dial platform, as well as a separate micro site at maps.justdis.com.
What's on offer?
Earlier, when users searched for a particular business on the Just Dial website, they were offered details like its name, pictures, contact number, address, ratings, as well as its location on a map. These maps were powered by Google's maps offering. If you click on the 'map' option now, you will find the company's own offering JD Maps powering the same (check out the picture below).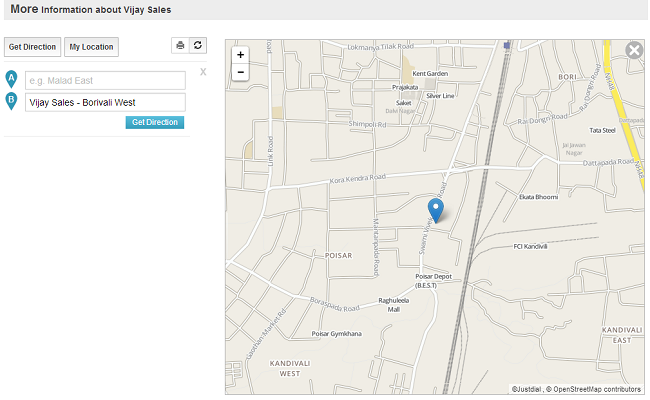 While for some businesses Just Dial's map offering provides an accurate location by dropping a 'pin' on the map, for others it simply highlights an area of proximity to the business, which is not really that helpful. And even if you keep zooming in with the hopes of finding the business (similar to what you can do on Google Maps), you will realise it is a hopeless endeavour.
Also, the level of details provided in the maps can also be majorly improved. The map solution is based on OpenStreetMaps, a crowdsourced maps project, which has provided the cartography for the same. However, all the addresses of businesses available on the map have been geocoded by the company itself.
Note that while you cannot get directions to a particular business on the Just Dial platform, the micro site allows the same. We tried finding directions to a popular mall in Mumbai (see pic), and felt that the directions were pretty accurate, even though they looked a lot inspired by Google's offering.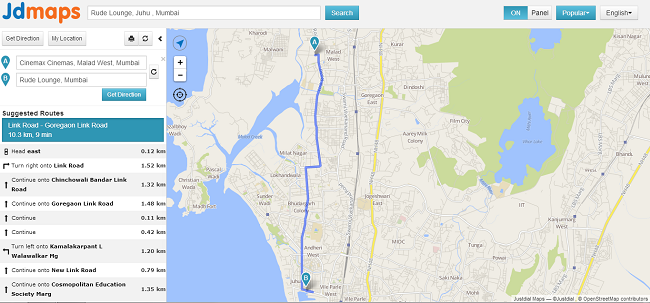 Since the company has recently started with its maps offering, a few glitches here and there are understandable. But it needs to work on fixing them fast, if it plans to pose any serious threat to search giant Google.
How is it faring?
The company's net profit for the quarter ended March 31, 2014 increased over 60 per cent to Rs 34.15 crore at a net profit margin of 25 per cent. Also, operating revenue for the quarter rose 26 per cent to Rs 124.21 crore from Rs 98.27 crore in the year-ago quarter.

Total searches on Just Dial platform increased 38 per cent to 290.4 million from 210.8 million last year. While searches via mobile rose 126 per cent, PC-based searches increased 24 per cent and SMS/Voice searches grew 5 per cent. As of March 31, 2014, the company's database consisted of around 11.8 million listings compared with 9.1 million as of March 31 last year, representing a y-o-y growth of 30 per cent.
Currently, Just Dial offers more than 17 search plus services on its platform. The firm also launched a reverse auction for branded goods, which will enable users/buyers to discover the best price for any branded goods on a real-time basis. Last month, the firm added bus ticket booking service to its platform. It had also said it will soon come up with other services, including flight and train ticket booking services.
---