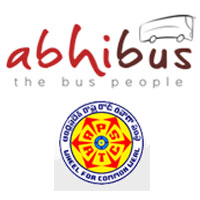 Online bus ticket booking platform abhibus.com, run by Hyderabad-based AbhiBus Services India Pvt Ltd, has partnered with the Andhra Pradesh State Road Transport Corporation (APSRTC) to sell tickets for its network across all the regions where it operates the service.
"We are pleased to bag this opportunity as APSRTC has the largest fleet of buses and services across India. We intend to add more services for our customers so that they don't need to go to multiple sites anymore to book their bus tickets," said Sudhakar Reddy Chirra, founder and CEO of abhibus.
According to the company, the partnership with the APSRTC will take its total inventory to 8 lakh seats from the current 5.5 lakh seats daily, and will add over 9,000 bus services to the platform. Currently, abhibus provides bus ticket inventory for over 1,500 operators and 15,000 routes.
Founded in 2007 by Chirra, a BE in electronics and communications, abhibus provides end-to-end software services and solutions to public transport departments as well as private bus operators across India. Its solutions include online passenger reservation system, e-ticketing system, fleet management solutions, vehicle tracking systems, passenger information systems, and logistics management. The firm claims that currently, three large state-run transport undertakings and over 200 private operators use its solutions.
abhibus is mainly competing with Bangalore-based BusIndia.com, the oldest bus ticket booking portal in India, which is currently focussing on state-owned Road Transport Corporations (RTCs). BusIndia, which claims to be holding the largest inventory in this space, is now eyeing the fast-growing private bus ticket booking space to widen its reach.
Other companies operating in the online bus ticketing segment in the country include redBus, which was acquired by Naspers group last year, and VC-backed Ticketgoose. Recently online business listing platform Just Dial and e-commerce site Infibeam also added travel ticketing services.
---