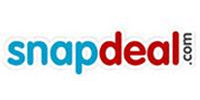 Online marketplace Snapdeal.com is considering two acquisitions in the Indian technology space, Kunal Bahl, co-founder of Snapdeal told Hindu Business Line. Without disclosing their names, he mentioned that both of them are technology startups.
While one is running a technology that helps buyers discover products easily, the other provides technology to sellers, enabling them to sell better and sell more.
"We are looking at two more companies right now and both are technology companies. These are very small companies with great technologies. These deals may or may not happen. I think within the next three months we will do something," Bahl told the publication.
Snapdeal, which is backed by the largest online marketplace eBay, is looking to increase the number of sellers on its marketplace from 30,000 currently to 1 lakh by 2015. And while Bahl mentions that the company has been receiving investor interest, it is not planning to raise funds in the near future.
Earlier this year, Delhi-based Jasper Infotech Pvt Ltd, which runs the online marketplace Snapdeal, had raised led by existing investor eBay Inc. with participation from other existing investors, in the third-biggest funding round in an Indian tech firm.
According to Bahl, the most important agenda on Snapdeal's list is 'to create life changing experiences for small businesses in India' and thus after acquiring companies like Shopo.in, Doozton.com, eSportsBuy.com, it is eyeing two more startups to create a better eco-system. The acquisition of Sequoia-backed handicrafts e-shop Shopo in May last year had marked the onset of the company's consolidation spree. However, Bahl disagrees to the idea of consolidation at an early age.
Consolidations have been a major mode of survival and expansion for many startups which have found it difficult to sustain themselves. And while many consolidations like Flipkart buying Letsbuy, Yebhi.com acquiring Stylishyou and Healthkart buying Madeinhealth.com have proved to be the lifeblood of the smaller e-commerce companies in the country, there have also been many shutdowns in the space.
---