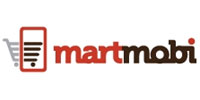 Hyderabad-based MartMobi Technologies Inc, which provides an m-commerce platform for e-commerce sites, brands as well as retailers, has made it into the latest batch of US-based TechStars startup accelerator. MartMobi, a Techcircle Runway 2013 startup, will leverage this opportunity to expand its footprint globally with strong focus on US expansion, according to its co-founder and CEO Satya Krishna Ganni.
"Having tasted success in India and the US through partnerships with market leaders such as Shopify, Zepo, Bigcommerce, Yahoo and Amazon, we would like to now quickly scale to more than 15,000 customers globally in the next two years," said Ganni.
MartMobi was founded in December 2012 by Ganni and Pramod Nair (CTO) – both serial entrepreneurs, who had earlier co-founded LearnSocial, a P2P learning platform that brings together people who want to teach something they are passionate about, and learners who are interested in picking up a new skill. Ganni also founded Sematrica Inc, Adaptive 3D Technologies, BB Inc and WebPDM Inc.
The MartMobi platform enables e-commerce businesses, brands and retailers to have an instant mobile presence without writing a single line of code. A self-service platform, MartMobi can be used to create custom applications for retailers across all major mobile platforms, thus ensuring a new source of revenue for online ventures.
MartMobi was started with a seed capital from International Institute of Information Technology (Hyderabad), and later raised funding from BitChemy Ventures and Srini Koppolu, former managing director of Microsoft's India Development Centre. In a recent interview with Techcircle, Ganni said that MartMobi is close to raising Series A funding from a few US-based investors.
"Our cutting-edge technology has helped us make global inroads. We will continue to focus on technology and build on user experience to deliver the world's best platform to our customers," said Pramod Nair.
TechStars is a mentorship-driven startup accelerator founded by David Cohen and Foundry Group's managing director Brad Feld. TechStars' mentors include Foursquare CEO Dennis Crowley, Tumblr CEO David Karp, HubSpot co-founder and CTO Dharmesh Shah, and Fred Wilson of Union Square Ventures. Some of the popular graduates of the programme include SendGrid, Digital Ocean, Shuttlecloud, OnSwipe.
"We are excited to have MartMobi join TechStars and strongly believe in the team and their vision. We hope this would inspire many other Indian startups to apply to TechStars," said Troy Henikoff, managing director, TechStars.
The three-month programme will start on May 27, and a total of 10 startups (one each from India and Israel, and rest from the US) are attending it. The startups will receive $18,000 each as part of the programme.
---