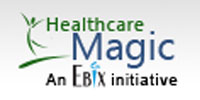 Ebix Inc, an international supplier of on-demand software and e-commerce services to the insurance, finance and healthcare industries, has acquired Bangalore-based Unified Health Solution Pvt Ltd, the company behind HealthcareMagic, a medical advisory service with an online network of approximately 15,000 general physicians and surgeons.
Ebix paid $6 million in cash for the acquisition with a contingent earn out of up to $12.5 million payable after two years.
Ebix will integrate HealthcareMagic's services into its ADAM Health Division. Ebix also intends to launch HealthcareMagic's B2B services in the US.
"Our vision is to create the largest online exchange of health data between doctors and consumers in the world, with tens of thousands of doctors available for medical advice and treatment. The launch of ADAM OnDemand recently and now this acquisition are logical steps in that direction. We intend to next work towards the launch of a fully integrated cloud-based global medical treatment exchange for patients and healthcare providers with integrated phone and video based calling services," said Ebix president and CEO Robin Raina.
HealthcareMagic was founded in 2008 by IIT Kanpur alumnus Kunal Sinha. He had also earlier founded TechUnified. Prior to that, he had worked at IBM. HealthcareMagic's round the clock 'Ask a Doctor' service allows a consumer to write a health query, attach a picture or upload a lab report and post to doctors across the world in just a few clicks.
The company's online network of doctors answers the questions in a short time, with thousands of doctors spread across geographies and time zones. Consumers can access the service on a per usage or subscription basis. The firm claims that it sees an average of 130 queries per hour. Its user base spans across the world, with 70 per cent of the users coming from the US. The service can be accessed on the web and also from Android and iOS devices.
HealthcareMagic also caters to the B2B segment by offering the service to employers, who in turn offer it to their employees as a part of the health and wellness package. The employees and their families use its service which allows them to seek advice on a 24-hour by seven-day basis. The company counts among its clients companies including Vodafone, HSBC, McAfee, Akamai, Sapient, ICICI, Airbus, Bajaj and BMW etc in India.
In 2009, HealthcareMagic raised $2.5 million from Accel Partners.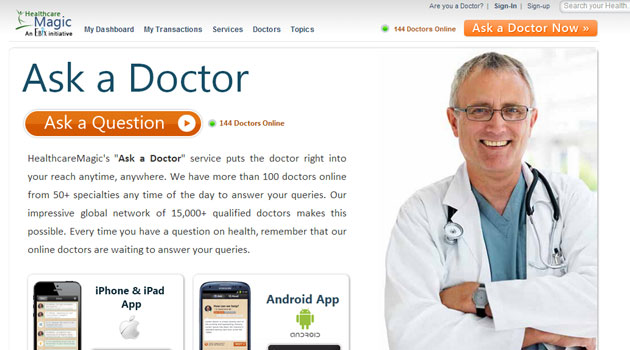 "This acquisition will open up the consumer channel for Ebix's various services besides helping us to expand our health and wellness portfolio of services for B2B clients. We also intend to offer this service to thousands of hospital clients, allowing them to create a private network between their Doctors and their patients. We see health and wellness coaching emerging as one of the most exciting fields in the US and beyond," added Raina.
Ebix provides end-to-end solutions ranging from infrastructure exchanges, carrier systems, agency systems and risk compliance solutions to custom software development for all entities involved in the insurance industry. Its ADAM business is focused on providing innovative multimedia health content trusted by best-in-class websites, consumer health portals, healthcare, biomedical, medical device, pharmaceutical, and academic organizations.
With 35-plus offices across Australia, Brazil, Canada, India, New Zealand, Singapore, the US and the UK, Ebix powers multiple exchanges across the world in the field of life, annuity, health and property & casualty insurance while conducting in excess of $100 billion in insurance premiums on its platforms.
---