India's overall tablet shipments for the first quarter of 2014 stood at 0.78 million units, recording a year on year decrease of 32.8 per cent over Q1 2013. The drop was primarily due to lack of new buyers even as the market continued with the struggle to attract new customers.
According to the report, Bureau of Indian Standards (BIS) compliance hurt the white-box market, but branded vendors could not capitalise on the same.
"BIS compliance is certainly hurting the white-box market. International device vendors like Apple and Samsung grew in comparison against Q4 2013, posting significant double-digit growth rates in Q1. However at an overall level, the branded vendors were unable to capitalise on the space left vacant by the erosion from white-box and smaller vendors," said Karan Thakkar, senior market analyst at IDC India.
Top vendors
Samsung maintained its leadership in the Indian tablet market with 47.5 per cent market share. The strong performance of the brand in the quarter was supported by the good presence it held in the 7-8 inch screen size category.
Cupertino-based Apple came second with 14.4 per cent market share. The company's compact tablet offering iPad mini continued to perform well in the market, while initial response for iPad Air also helped the company post a strong quarter.
Home grown handset and tablet manufacturer Micromax completed the top three with 8.8 per cent market share, followed closely by Aakash tablet maker Datawind with 6.8 per cent market share. However, in terms of volume growth, the quarter proved to be a bit slower for Micromax. Almost two-thirds of the company's volume was fuelled by a new model that it had rolled out earlier in Q1.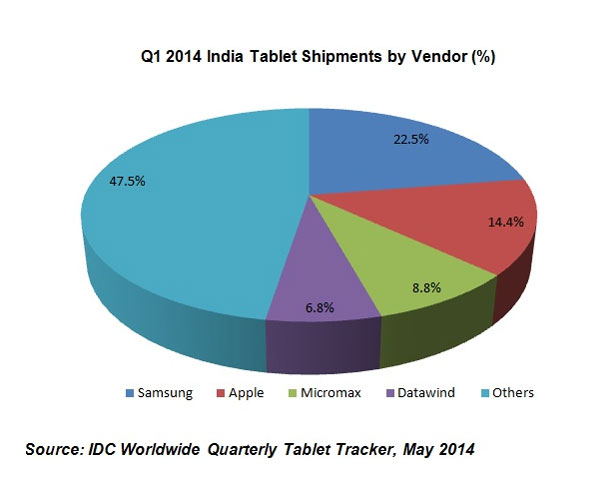 What's in store?
IDC anticipates the overall tablet market to hover around the same mark as reported in Q1 2014, since there are few inhibitors to the growth that include:
Phablets: The emergence of phablets- devices with screen size 5.5 to 6.99 inch- continues to haunt the consumer decision making process.
BIS certification: Another issue is the revised labelling guidelines for BIS certification of IT products. Most of the tablet vendors import shipments. Any alteration to the hardware design of the product has to be done at the source location, which in turn will pose a threat to the supply chain and there will be a direct impact on the launch of a product in a different market as well as its availability in India.
---