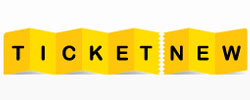 Chennai and US-based Orbgen Technologies Pvt Ltd, the company that owns and operates online entertainment and events ticket booking platform TicketNew is in talks to raise $3 million in VC funding, its co-founder and CEO N Ramkumar told Techcircle.in. The company expects to close the round in a few months, and will use the funds for product development as well as to expand its operations to developed markets.
"We are in initial talks with a few investors to raise capital. In addition to product development and expansion, a part of the funds will also go towards marketing and brand building," said Ramkumar.
TicketNew was founded in 2008 by the trio of Ramkumar, V Sasi Raman (director–technology) and Ravishankar Ramanujalu. Ramkumar is a computer science engineer with 20-plus years of operational and sales experience. Raman, with more than 13 years of experience in IT, had earlier worked at Accenture. Ramanujalu has more than 18 years of experience in managing enterprise projects, expertise in assessing, planning and implementing IT solutions.
The company is a technology-led entertainment services provider, integrating movie theatres, film distributors, production houses, events and sports with end consumers. Its flagship product, called Box-office, is an end-to-end ERP platform for cinemas that can help them optimise their operations. The company also offers mobile apps and customised web solutions to theatres.
Ramkumar says the Box-office software also provides reports on daily occupancy rates and collections, besides other details like food and snack consumptions at the venue. The software can also give analytics to event organisers. After each show, its software also sends the reports to the management via SMSes.
The company charges a convenience fee of Rs 20-30 from end users while booking tickets, in addition to a small fee from the theatre owners for software installation and app development. Ramkumar adds that TicketNew has built 400-plus portals and 45-plus apps for around 700 theatres across 140 cities in India. Apart from India, it also has partnerships in countries like Oman, Dubai and Singapore.
According to the company, the platform has over 22 lakh registered users and is selling 5-6 lakh tickets on a monthly basis. Ramkumar also adds that the firm closed last fiscal with $9 million revenues, and is expecting to close the current fiscal with $15 million in revenues. He further claims that TicketNew is already profitable.
Competition
TicketNew is mainly competing with BookMyShow, a Network18 company, and Mumbai-based Ticketplease. BookMyShow, which sells close to 1 lakh tickets every day, is the largest event ticket booking company in India. In the quarter ended March 31, 2014, BookMyShow's average tickets sold every month grew by 86 per cent to 2.9 million (Q4 average) from 1.6 million last year.
Ramkumar, however, claims that unlike its peers TicketNew provides end-to-end solutions to theatres and other event organisers, and is the only company in India to offer software as well as a web platform. "We provide branded web solutions and mobile apps to theatres, whereas companies like BookMyShow are just facilitators."
With more than 95 employees on board, TicketNew is also eyeing developed markets like the US and Europe to expand its business. "We have already launched our software in the US, and are in talks with a few theatres to install the solution. We will come up with a proper expansion plan once we raise the capital," he concluded.
---