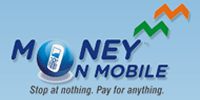 Mumbai-based startup My Mobile Payments Ltd (MMPL), which owns and operates mobile payment platform Money-On-Mobile, has acquired a significant stake in OSS India for an undisclosed amount, according to a Medianama report.
As of now, OSS India operates a cash card service 'Done Card' as well as a number of customised e-commerce solutions in the B2C space under the 'One Stop Shop' brand. While the exact terms of the deal remain undisclosed, MMPL will offer financial support to the company to re-launch the service.
The various e-commerce solutions currently offered by OSS India include Railticketonline.com (train tickets booking), Flightsafar.com (flight bookings), Mybillseva.com (online bill payments), Bussafar.com (online bus booking),Mymoneyseva.com (money transfer) and Mobileseva.in (mobile recharge). According to MMPL, the company (OSS India) will continue to manage the day-to-day activities and will also focus on strengthening its railway and bus ticketing businesses.
Money-on-Mobile was first launched for the B2B market in India in 2010 and in 2012 the company received RBI's permission to offer the semi-closed m-wallet service for the consumer market nationally. It allows its users to load their mobile phones with cash of various denominations at retail touch points and then use this virtual money to top up any prepaid mobile or for DTH recharge or pay post-paid mobile bills, utility bills (like electricity and gas) and also purchase airline, bus and movie tickets.
Also, since the service operates independent of the consumer's mobile operator or bank, any mobile subscriber can avail the service through an SMS or mobile application-based platform. The company also offers apps for the Android, Symbian, Java and Windows platforms.
As of March this year, in India, Money-On-Mobile had served over 84.3 million unique phone number customers and had over 179,000 retail partners offering the service. During the same time, it had raised funding from a team of Silicon Valley executives led by Babu Vinod Sivadasan, executive vice president (product development) of Envestnet Inc and CTO of Stamps.com.
Earlier in March 2012, Calpian had invested in a sister firm Digital Payments Processing Ltd (DPPL), which is sharing the management team who runs MMPL and derives all its business from that entity. It was Calpian's first investment in India. In a nutshell, the deal involved a mix of cash and stock transactions spread over two years for a total cash consideration of $9.7 million besides stock issue worth $20 million (either to the promoters of MMPL or to MMPL itself, but in tranches through January 2014) to acquire up to 74 per cent stake in DPPL.
This investment was structured in this format as it was not clear if Calpian would be permitted, under the then-existing regulations, to invest directly in MMPL.
(Edited by Joby Puthuparampil Johnson)
---