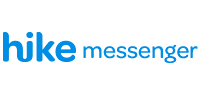 Hike, the instant messaging app from BSB (Bharti Softbank- the joint venture between Bharti Group and Japan's Softbank) claims to have crossed the 20 million users mark. According to the company, five million or 25 per cent of its users were added in the last three months alone.
The app, which was launched back in December 2012, has achieved the milestone in one and a half years. Close to 90 per cent of the app's users are from India and over 80 per cent of its users are under the age of 25.
Kavin Bharti Mittal, head- product and strategy, Hike messenger, said, "India has close to 100 million active mobile internet users and that number is growing rapidly every year. That's the market which we are building for. We will continue to focus heavily on introducing new and innovative features to bridge the existing gaps in the IM market in the country."
New features
The company has also added a number of new features to the app, which include a 'hidden mode' as well as a 'big file transfer' feature.
Big file transfer: Basically equips users to share all file formats from Docs, PPTs, PDFs to MP3s of up to 100MB size each, surpassing the attachment limit of all IM apps and even email clients (at least that is what the company claims). With the addition of the feature, Hike users no longer have to share files via emails or transfer over SD cards.
Hidden mode: Enables users to keep their private chats hidden from others. You can now hide your private chats, such that no one even knows they're hidden, and access them only with the right password.
"In a country like India, where teenagers stay with their parents and families and their need for privacy is constantly challenged, we believe this feature could be a boon for all our users. We're building all these new features on the basis of the feedback from our beta-users called the Hike ninjas," added Mittal.
Founded in July 2012 by Kavin Bharti Mittal (son of Bharti Group honcho Sunil Mittal), Hike is part of a joint venture between Bharti Group and Japan's Softbank. Hike is a peer-to-peer (P2P) messaging app that uses both data and SMS to deliver messages. One of its key features is that those who don't have Hike on their phones can still receive an instant message as an SMS. You can also respond to it but have to pay normal SMS charges for that.
As of now, Hike is available on iOS, Android, Blackberry, Windows Phone, S40, and S60 platforms.
Earlier this year, BSB had infused an additional $14 million (Rs 84 crore) into Hike. The capital is being used to scale the operations and marketing activities. Prior to that, BSB had put in $7 million in Hike in 2013. A few months later, Hike announced its first telco partnership with Airtel, wherein the telecom operator's pre-paid users will get the first three months of usage on Hike for free.
In comparison, as of April this year, cross-platform instant messaging app WhatsApp claimed to have reached the 500 million monthly active users mark. Out of this, a fifth or 100 million users were added in the last four months alone. The company further claims that it was sharing 700 million photos and 100 million videos on a daily basis.
Also, as of December 2013, Japanese firm LINE Corporation, which owns and operates the free call and messaging app LINE had crossed the 300 million users mark globally, out of which 15 million came from India.
---