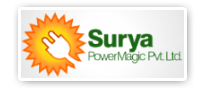 Coimbatore-based solar-agriculture startup Surya Power Magic has raised an undisclosed amount in funding from Intellecap Impact Investment Network (I-cube-N). The investment has been made in syndication with IIM Ahmedabad's clean tech-focused fund Infuse Ventures. This is I-cube-N's first investment in the clean energy sector.
I-cube-N members that invested in the startup included the Waaree Group, a domestic player in the solar sector in India besides Naveen and Gautam Kshatriya of Kshatriya Ventures.
"This investment will be used for strengthening the second line of management, R&D, marketing, and business development over the next 18-24 months. We are confident that Surya's tripartite partnership-based model for distribution and financing will enable the company to grow rapidly," said Naveen.
Founded by duo Abhilash Thirupathy and Karthic Ravindranath, Surya Power Magic offers solar-based irrigation solutions for farmers, and aims to be a pioneer in R&D and distribution solutions for solar products. The company currently creates and sells affordable solar water pumps that allow farmers to access water for irrigation. According to the company, it has installed over 25 water pumps in Tamil Nadu to date.
"Along with financing, I-cube-N angels can add tremendous value across the value chain for us. We are excited to have these investors on board, and look forward to getting their guidance in scaling up our operations," said Thirupathy.
Aditi Shrivastava, head, I-cube-N, said, "Angel investors have typically found clean energy as a difficult sector for investment because of the perception of high initial costs, complicated technology or regulatory issues. But we are getting them promising startups in sub-sectors such as bio fuels, clean cook stoves, cold storage, FMCG solar goods, etc., which are easy to understand and also amenable to smaller ticket investments."
In September 2011, Intellecap launched I-cube-N with support from International Finance Corporation. I-cube-N was established to build a community of experienced angel investors who can provide equity capital of up to $1 million in very early-stage for-profit social enterprises in the sectors of agriculture, clean energy, water & sanitation, education, financial services and healthcare.
Early last year, Kolkata-based startup iKure Techsoft Pvt Ltd, which is into tech solutions for delivery of healthcare services in rural areas, had received an undisclosed amount in angel funding through I-cube-N. The investment had been made by the mentors and investors of the network – Jayesh Parekh (co-founder of Sony Entertainment Television) and Nandan Maluste (president of CSO Partners).
(Edited by Joby Puthuparampil Johnson)
---