Sequoia-backed Practo targeting hospital chains to grow business

Sequoia Capital-backed Practo Technologies Pvt Ltd, a web-based clinic management software developer which derives a major portion of its business from primary clinics, is looking to focus on hospital chains and make relevant products to expand in that market, a top executive told VCCircle.
"We are keenly looking at the hospital chains market. We will be building more solutions which are tailor-made for this market as we would like to grow in this segment," said Shashank ND, co-founder and CEO of Practo.
The company, which says it has over 1 lakh doctors on its network and claims it books around 30,000 appointments with traffic of over 5 lakh unique visitors on its website per month, is looking at expanding its products and entering new segments and geographies.

Practo offers services like helping patients find relevant doctors online, compare them and schedule appointments. It also sells PractoRay under software-as-a-service (SAAS) model for primary clinics, which enables doctors to do scheduling, patient record management, billing and inventor among others.
Earlier last month, it launched a tablet under the brand PractoTab for hospitals and clinics, where patients can walk in and use it to register, watch healthcare videos and give feedback, among other services.
According to Shashank, apart from targeting new segments and releasing more products, Practo is looking to grow its domestic and overseas presence.

"We entered Singapore market around 18 months ago. We are now the largest online clinic management software provider in terms of market share. We are looking at entering one more country by later this year or early next year—we are looking at the markets of Philippines, Malaysia and the Middle East," he said.
In India, Practo has a presence in the top six cities and plans to expand its presence in tier II cities.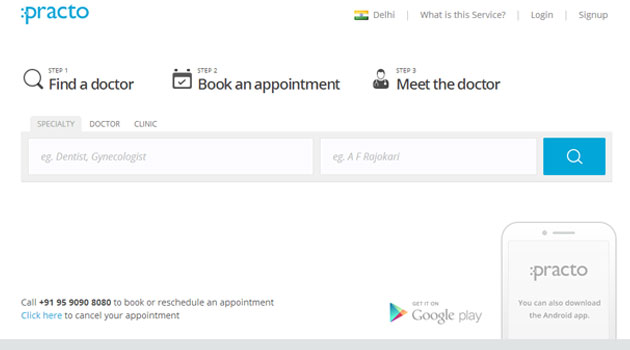 "We will expand to around 6-12 tier II cities like Ahmedabad, Chandigarh, Jaipur and Cochin in 12-18 months," he said.
The company which was started in 2008 by two graduates from National Institute of Technology Surathkal – Shashank and Abhinav Lal – managed to secure $4.6 million (around Rs 25 crore) investment from Sequoia Capital in 2012.
According to Shashank, Practo could look at raising more capital in 12-18 months. Most of this expansion would come from internal accrual.

"We have been growing 50-100 per cent quarter on quarter. We are looking to close this fiscal year at Rs 20 crore," he said.
(Edited by Joby Puthuparampil Johnson)
---