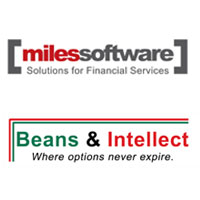 Miles Software Solutions Pvt Ltd, a provider of technology solutions for the wealth and asset management industry, has acquired the business and the intellectual property (IP) of Mumbai-based Beans & Intellect Financial Technology Pvt Ltd, a provider of technology and consulting services in the portfolio and risk analytics space. The financial details of the transaction are not disclosed.
"This move will further enhance our product value proposition and will serve as a differentiated value to our customers. We will soon be launching the integrated solution with our existing platform and the same will be available as a service on the cloud," said Milan Ganatra, CEO of Miles Software.
Beans & Intellect was established in 2006 by IIT Bombay alumni Anshuman Verma and Dhilly Babu. Verma previously co-founded Beans Solutions, a financial analytic outsourcing firm. In the past, he had worked with Globeop Financial Services, Wipro Technologies, Zurich Asset Management, and Dishnet. Babu worked with Standard & Poors (S&P), a global rating agency, prior to setting up Beans & Intellect.
Beans & Intellect provides technology, consulting, analytics and implementation services to financial institutions globally. It specialises in treasury technology, derivatives, banking, risk management and broad capital market area. The firm works with commercial banks, investment banks, corporate treasuries, brokerage houses, hedge funds, asset management firms, mutual funds and insurance companies.
"We believe the market is poised for high growth in the areas such as portfolio risk and analytics. With our established strengths in these areas, we were looking for an aggressive and large organization which would provide us the synergy, help us with investments and carry us to the big league," said Anshuman Verma, CEO, Beans & Intellect.
Founded in 1999, Miles Software is a provider of technology solutions to wealth and asset management firms across the world. Its clients include private banking institutions, asset management companies, brokerage firms, wealth advisors, financial institutions and family offices. The firm claims that it has more than 250 global customers among financial institutions in India, Asia Pacific, the Middle East, Africa and Europe. Miles Software has offices in the UAE, besides Mumbai.
(Edited by Joby Puthuparampil Johnson)
---