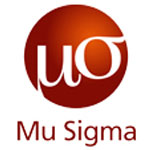 General Atlantic-backed Big Data analytics firm Mu Sigma has appointed Ganesh Lakshminarayanan as its managing director (MD) for India operations. In his new role, he will work closely with the current leadership team to enhance the India delivery function and help the company continue to scale globally. He will report to Dhiraj C Rajaram, Mu Sigma's founder and CEO.
Prior to Mu Sigma, Lakshminarayanan was associated with Dell, heading its Asia-Pacific and Japan sales operations.
Commenting on the new appointment, Rajaram said, "We must keep pace with the speed and scale of shift in the Big Data space. I am sure Lakshminarayanan's rich experience in scaling operations will significantly help Mu Sigma in its journey of growth."
Lakshminarayanan has more than 25 years of experience in the technology domain and is also credited with starting Dell's India operations. He had joined Dell back in 2010 as its VP, global consumer, SMB services. He holds a MBA in finance from Stephen M. Ross School of Business - University of Michigan and a BE degree in computer science and engineering from Anna University, Tamil Nadu.
"Mu Sigma's approach of combining math, business, technology and behavioural science to help companies solve business problems has always interested me. The frameworks and platforms used by the company- which helped it grow from a disruptive startup to an industry leading provider of decision sciences- is exciting," said Lakshminarayanan.
In addition to Lakshminarayanan, former Forrester Research executive Tom Pohlmann has also joined the company as its head of values and strategy.
Mu Sigma was founded in 2004 by Rajaram, who was earlier a strategy consultant at Booz Allen Hamilton and PricewaterhouseCoopers. Rajaram holds an MBA from the University of Chicago, an MS in Computer Engineering from Wayne State University, and a bachelor's degree in Electrical Engineering from College of Engineering Guindy, Anna University.
It helps companies institutionalise data-driven decision making and harness Big Data. Mu Sigma solves high-impact business problems in the areas of marketing, risk and supply chain across 10 industry verticals, and claims to have over 3,000 decision science professionals and more than 125 Fortune 500 clients.
Earlier this month, the company had acquired Singapore-based Webfluenz, a social media analytics company, for an undisclosed amount. As part of the acquisition, Mu Sigma will integrate Webfluenz's technology to build products that will enable mining of real-time intelligence from huge chunks of data.
In February last year, MasterCard Advisors, a division of the NYSE-listed MasterCard, had entered into a strategic partnership with Mu Sigma that combined MasterCard Advisors' purchase behaviour insights with Mu Sigma's analytics. As part of the partnership, MasterCard had also acquired an equity stake in Mu Sigma.
In December 2011, Mu Sigma had raised funding worth $108 million, led by private equity firm General Atlantic. Earlier, in April 2011, the company also raised $25 million, led by Sequoia Capital. In the same year, Mu Sigma also topped the Service Provider Evaluation ranking among the pure play analytics companies.
---