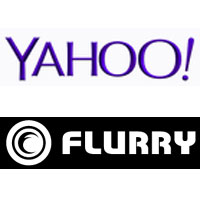 Internet giant Yahoo is all set to make yet another acquisition. The company has announced that it has reached a definitive agreement to acquire Flurry. While the financials of the deal remain undisclosed, TechCrunch pegs it at around $200-300 million.
"By joining Yahoo, Flurry will have resources to speed up the delivery of platforms that help developers build better apps, reach the right users, and explore new revenue opportunities," the company said in a statement.
Post acquisition, the Flurry team will remain in their present locations, and the company's products will continue to operate with Yahoo's support and investment.
For Yahoo, this acquisition is critical as it can now up its mobile efforts and improve its mobile advertising business. According to the internet provider, its mobile display and search revenue grew by over 100 per cent annually.
Analytics are critical for all mobile developers to understand and optimise their applications. The combined scale of the two companies will accelerate revenue growth for developers and publishers across the mobile ecosystem. According to Yahoo, joined offerings of the two companies will provide better and more effective mobile adverting solutions for brands along with insights across desktop and mobile.
Flurry said that this acquisition will provide them with more resources to speed up the delivery of its products. The company had started its Indian operations in 2012 which was led by Aakrit Vaish. Vaish quit the company in June last year to start his own venture Haptik.
In an interview with Business Today in January this year, Flurry CEO, Simon Khalaf had said that the company works with around 1,400 companies (with more than 10,000 apps) in the country.
It had recently taken $10 million debt financing and was looking for additional investment. The company had also raised $12.5 million in December last year. According to Flurry, over 170,000 developers across 150 countries use Flurry analytics and it is seeing app activity from 1.4 billion devices on a monthly basis.
---