MapmyIndia launches 'Buzz', a rear-seat entertainment device for Rs 17,990 in India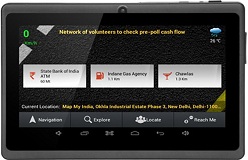 GPS navigation and location based services (LBS) provider MapmyIndia has launched yet another navi-tainment (navigation + entertainment) device in the Indian market. Christened 'Buzz', it is basically a rear-seat entertainment device that lets users navigate, watch movies, video chat, access social networking sites, e-mail and more, on the go.
Priced at Rs 17,990, the device is available across all the major cities like Delhi-NCR, Chandigarh, Lucknow, Kanpur, Mumbai, Bangalore, Chennai, Hyderabad and Kolkata. It can also be purchased online on MapmyIndia.com/store.
Running on the Android operating system, the device's user interface (UI) can be customised for the travellers' specific needs. Apart from updating users with their current location, the home screen can be set to provide other location-based information like weather; news & recommendations; points of interests (POIs) like ATM, restaurants, hotels and chemists; as well as speed alerts, among others.
"We want to empower Indians with a choice to utilise their travel time the way they want to. With Buzz, they can keep working, reach out to friends, or just have fun, making travel a more gratifying and fulfilling experience," said Rakesh Verma, MD, MapmyIndia.
The device also comes pre-loaded with MapmyIndia's social location apps- Locate, Explore, ReachMe and MapmyIndia Maps. These apps allow users to track, interact, follow, discover new places, and endorse places visited, etc. Applications like Locate and ReachMe enhance travel safety and security by allowing users to share their journey's progress and be live tracked by their friends and family (on permission basis).
The package also offers SOS message that can be sent along with the user's location coordinates to selected contacts in case of an emergency.
To ensure seamless transition from static (in-home) to a dynamic (in-car) environment, Buzz is equipped with Wi-Fi that can be powered by an internet hot-spot through the user's smartphone or internet dongle. "Now you don't have to worry about that message or that post/picture you wanted to upload on Facebook, while getting out of the house/office. Step into your car and Buzz will take over from there," read a statement from the company.
Technical specifications
MapmyIndia Buzz sports a 7 inch TFT LCD capacitive touchscreen display and runs on the Android 4.2 Jelly Bean OS. It is powered by an ARM Cortex-A7 dual-core processor and has an enterprise grade GPS Chipset. The internal memory of the device is 8GB that can be further expanded up to 32GB with a microSD card.
Armed with a 0.3 megapixel front-facing camera, Buzz has Wi-Fi, a microUSB port and a microSD card slot. The dimensions of the device are 181.6mm x 120.9mm x 10.6mm and the company has provided a 3.7V lithium polymer battery in it.
Navigation experience
The device is powered by version 8.1 of MapmyIndia maps and provides voice guidance in 10 Indian regional languages, as well as maps for 10 cities in Hindi text. The offerings include 10.54 million unique POIs, coverage of over 2 million kilometres road network, 7,068 cities at street level with house address level data for 80 cities, 6 lakh villages and 2D & 3D landmarks in 86 cities.
The company is also providing a custom-made rear-seat mount-kit with the device that holds it for access/viewing at the rear seat.
Delhi-based MapmyIndia offers digital maps and data, GPS navigation and tracking devices, location apps and enterprise geographic information system (GIS) solutions. Its product range includes portable GPS navigator devices, in-dash navi-tainment systems, mobile apps and printed maps & books, among others. The firm counts four external investors including three VC firms Lightbox Ventures, Nexus Venture Partners and Qualcomm Ventures. It also has a strategic investor in the form of Zenrin, a Japanese firm engaged in the production and sale of the database of maps.
In May this year, we had reported that at least two of the three venture capital investors of Delhi-based C.E. Info Systems Pvt Ltd, a provider of online maps, geographic information system and navigable map solutions under the MapmyIndia brand, are in talks to exit the company.
Other navigation devices providers in the country include Garmin Corporation (a part of Garmin Ltd) and Dutch navigation service provider TomTom, among others.
Comment(s)