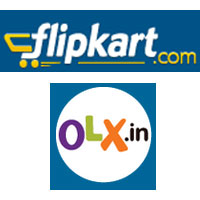 Home grown e-commerce portal Flipkart and online seller of used products OLX have joined hands to engage customers by offering them discounts for using each other's sites for complementary transactions.
Under the program being run by the two companies, if a user plans to buy a product from Flipkart, he/she will be urged to sell a product on OLX or at least post an ad for it.
Flipkart is offering a 5 per cent discount to customers who post an ad for their used product (or for that matter unused one) on OLX and then buy a product from its site. As a user posts an ad on OLX he/she gets a discount voucher for Flipkart. That's cool, as one just needs to post an ad after all. This boosts the ad impressions and possibly gets new users to register with OLX.
The catch being the discount voucher is valid only for products sold by Flipkart's in-house or associated vendor WS Retail (co-owned by some employees of Flipkart). For Flipkart this comes as just another joint marketing exercise with some discount vouchers thrown in.
"With this partnership with OLX, we will be able to provide an end-to-end solution to customers especially in the electronics categories where selling old products is an integral part of the buying process," Ravi Vora, senior VP, marketing, Flipkart said.
"This tie-up will enhance consumer experience on OLX and Flipkart by giving users a more holistic online shopping experience in which they can sell their used goods on OLX before buying new products on Flipkart," Amarjit Batra, CEO, OLX said.
The companies are offering the discount only on electronic products such as mobile phones, tablets, cameras, laptops, TV and gaming consoles.
The promotional activity which started from August 6, will be available for customers in select cities including Delhi, Mumbai, Jaipur, Pune and Bangalore for a month.
This is an interesting tie-up not the least because they are backed by a common investor Naspers. OLX which was founded in 2006, is owned by South African internet company Naspers, which also happens to be a shareholder in Flipkart.
We talked to one investor of Flipkart to get their view of the partnership. Prashant Prakash of Accel Partners told Techcircle.in that such an initiative will amplify the number of users each company has.
"There is a good complementary aspect to the pipe of offer that a company has. Such a step will amplify the number of users a company is reaching out to at the end of the day which otherwise would be much expensive," Prakash said.
Indeed, as the companies say this activity will increase awareness among the customers and accelerate the adoption of their online platforms for buying and selling.
Buy Mi3 on Flipkart, sell on OLX with a gain!
What we found interesting is that how some users are taking the buying and selling on the two platforms to make some money on the side.
A few ads on OLX are for mobile handsets sold exclusively on Flipkart. For instance some users are selling Xiaomi's Mi3 handset, being marketed exclusively on Flipkart (and sold out given the rush of demand) at a mark-up of a few thousands at which Flipkart offered on its site.
Mi3, which is being sold at (out of order currently) Flipkart for around Rs 14,000 a piece, is available on OLX by some users (who possibly managed to get their hands on it early) at prices ranging from Rs 16,000-17,000.
So one can possibly buy from Flipkart, sell on OLX (or just post an ad) and get a voucher for more purchase on Flipkart. Pretty neat deal!
---