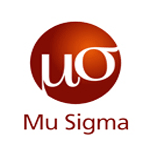 India- and US-based Mu Sigma Inc., one of the leading Big Data analytics companies in the world, is in talks with a group of investors to raise upwards of $200 million in fresh funding, which could value the company more than Flipkart, a person with direct knowledge of the matter told VCCircle.
Mu Sigma will close this round in three-six months, the source revealed, requesting anonymity.
A couple of weeks ago, Flipkart -- the largest e-commerce company in India -- had raised $1 billion in a fresh funding from investors, including Tiger Global, Naspers, Accel Partners, DST Global, ICONIQ Capital, Morgan Stanley Investment Management and Sofina, which according to some media reports, valued the firm at $7 billion.
When contacted, Mu Sigma founder and CEO Dhiraj Rajaram declined to comment.
In a separate interview at the 'Techcircle.in Big Data Forum 2014' last week, Rajaram had said that Mu Sigma would look to float an IPO in two-three years. However, he declined to share further details.
Earlier in the day, a report by The Economic Times citing sources said that Mu Sigma is in talks with multiple investors to raise up to $500 million, which would value it at $6-7 billion.
Mu Sigma had previously raised more than $160 million in multiple rounds of funding from marquee investors like General Atlantic, Sequoia Capital, Fidelity, FTV Capital and Accel Partners besides payment solutions giant MasterCard.
Mu Sigma was founded in 2004 by Rajaram, who was earlier a strategy consultant at Booz Allen Hamilton and PricewaterhouseCoopers. Rajaram holds an MBA from the University of Chicago, an MS in Computer Engineering from Wayne State University, and a bachelor's degree in Electrical Engineering from College of Engineering Guindy, Anna University.
It helps companies institutionalise data-driven decision making and harness Big Data. Mu Sigma solves high-impact business problems in the areas of marketing, risk and supply chain across 10 industry verticals, and claims to have over 2,000 decision science professionals and more than 75 Fortune 500 clients. According to Rajaram, Mu Sigma is winning around 10 customers a quarter.
Early last month, Mu Sigma acquired Singapore-based Webfluenz, a social media analytics company, for an undisclosed amount.
In February last year, MasterCard Advisors, a division of the NYSE-listed MasterCard, had entered into a strategic partnership with Mu Sigma that combined MasterCard Advisors' purchase behaviour insights with Mu Sigma's analytics. As part of the partnership, MasterCard had also acquired an equity stake in Mu Sigma.
Mu Sigma is competing with Fractal Analytics, a pure-play analytics provider from India which had raised $25 million in funding from private equity investor TA Associates in June last year. Early this week, Fractal announced that Toronto Stock Exchange-listed Aimia Inc is picking a stake in the firm for an undisclosed amount.
(Edited by Joby Puthuparampil Johnson)
---