WhatsApp added 10M users in last three months in India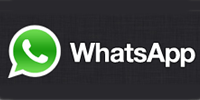 Mobile messaging app WhatsApp added ten million users in the last three months in the Indian market, according to a BGR India report. The app had 50 million active users in the country as of May this year, and it claims to have close to 60 million users now.
Globally, the app had crossed 500 million monthly active users mark in April 2014. The company is yet to reveal its latest figures.
However, all is not great for the company, which has been facing flak from telecom service providers in the Indian market. The telcos recently sought the Telecom Regulatory Authority of India's (TRAI's) intervention for a better level-playing field with companies that offer popular services like WhatsApp, Viber and Skype.
TRAI has mentioned that it is planning to release a consultation paper to discuss regulatory framework for over the top (OTT) players such as WhatsApp and Skype. While these services make it much affordable for the consumers to send and receive messages, SMS services that are offered by telecom service providers have died a slow death because of them. Even the voice services are being affected as OTT services are free of cost so customers prefer them over payable call services.
The company had earlier announced that it would launch its voice calling service in the second quarter of the year. However, there is no word on that from the company so far. According to WhatsApp VP Neeraj Arora, the company is still working on the same, but they don't have a specific launch timeline as of now.
Comment(s)