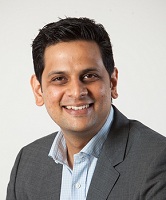 Singapore-based mobile applications company U2opia Mobile has appointed Hari Krishnan, MD, Asia Pacific and Japan at LinkedIn, to its board of directors. According to the company, Krishnan's insight and guidance in building a robust, agile and competitive enterprise sales organisation will be key as U2opia Mobile expands its enterprise business.
In addition, his experience with online consumer businesses in Asia will be valuable as the company introduces its direct-to-consumer offerings.
"There is a large under-served mass of users in the emerging markets which gets addressed with U2opia Mobile's Fonetwish platform. Krishnan's active guidance and leadership will help us create solutions which are robust and scalable. This will help us expand our enterprise business and serve our customers better," said Sumesh Menon, co-founder and CEO of U2opia Mobile.
An INSEAD alumnus, Krishnan had joined LinkedIn back in 2009 as its country manager for India. He was promoted as the company's MD for APAC and Japan early last year, around the same time when LinkedIn named Nishant K Rao as its new country manager for India. Prior to LinkedIn, he co-founded Stylkist, an e-boutique.
He had also earlier worked at companies like Fox Interactive Media, Travelguru, Yahoo India, and Cisco Systems. Krishnan holds a MS degree in telecommunications from University of Colorado at Boulder, and a BE Honours in electronics & telecommunications engineering from University of Bombay.
"I have enjoyed interacting with the team at U2opia Mobile over the last few months. As a young company, its business momentum and desire to deliver to a large addressable base have been impressive. I'm excited to contribute to its journey to unlock value for consumers and businesses in the emerging markets," said Krishnan.
U2opia was founded in 2010 by Menon and Ankit Nautiyal, and has offices in Singapore, Dubai and Delhi. The company is backed by Matrix Partners India from whom it raised an undisclosed amount in Series A in 2011. Prior to that, U2opia also raised an angel round from a consortium of Indian and international investors in 2010.
The company's flagship product is Fonetwish, an app that powers mobile access to Facebook and Twitter without internet connection. Fonetwish enables mobile users to access Facebook via USSD (unstructured supplementary service data) and was co-developed with the social networking major. The company claims to be catering to 20 million users globally, spread across 40 countries.
In June last year, the company had roped in TS Ramakrishnan as a technology advisor. Prior to joining U2opia Mobile, Ramakrishnan had worked with internet giants like Facebook, Skype, Yahoo, AdMob and Oracle.
---