Attero raises $16.5M in Series C from Forum Synergies, existing investors


Noida-based Attero Recycling Pvt Ltd, which is into e-waste disposal and management, has raised $16.5 million (Rs 100 crore) in its Series C round of investment led by private equity fund Forum Synergies (India).
Attero plans to invest the capital raised in building plants in the international markets. Simultaneously, a substantial part of the capital raised will go into technology and innovation.

Nitin Gupta, CEO, Attero, told VCCircle that in two-three years almost 10 per cent revenues will come from intentional markets and the firm is looking to set up operations in geographies like Mexico.
Attero is an e-waste management solutions provider in India, processing e-waste with a zero-landfill system and has tied up with more than 200 corporates for its services. The company extracts pure metals from end of life electronics. It offers services including e-waste management, electronics asset recovery, data security and pan-India reverse logistics along with repair, refurbishment and retailing of electronics. Attero has a 100,000 sq ft plant in Roorkee in Uttarakhand.
According to Gupta, the company clocked revenues of Rs 142 crore for the year ended March 31, 2014 and expects revenues of Rs 450 crore for the current year.

Samir Inamdar, co-founder, managing director and CEO, Forum Synergies (India), said, "Attero addresses a growing environmental concern in India in a safe and efficient manner. We have well-founded expectations of growth and global impact from Attero. We are confident of helping Attero management create a global company out of India."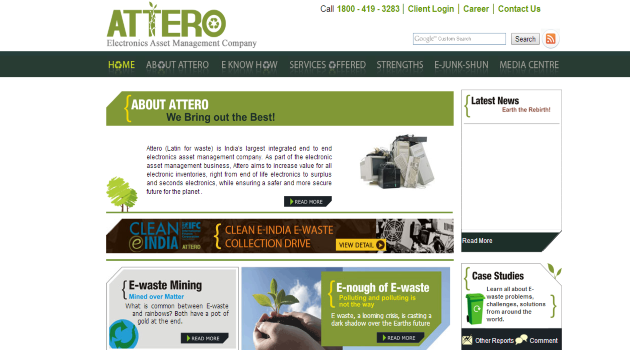 Forum Synergies is a Bangalore-headquartered private equity firm investing growth capital primarily in SMEs and mid-market businesses in engineering, healthcare, clean technology and Information and Communication Technology (ICT).

Talking about the latest funding round, Attero's Gupta said, "Almost 45 percent of the funding has come from new investor Forum Synergies and the rest from existing investors excluding IFC. All other existing investors stay invested in the company."
The company has raised two rounds of funding earlier from investors such as Draper Fisher Jurvetson (DFJ), Granite Hill India Opportunity Ventures and Kalaari Capital besides debt funding from International Finance Corporation (IFC).
The company raised $8.3 million in its second round in 2010. Granite Hill India Opportunities Fund, along with existing investors IndoUS Venture Partners (now Kalaari Capital) and DFJ, put in $3.3 million in a Series B round. The remaining $5 million was committed by IFC in the form of convertible debentures. Earlier in 2008, the company raised $6.3 million from IndoUS Venture Partners and DFJ.

Other firms in the e-waste management business include Delhi-based Karma Recycling Pvt Ltd, which raised seed funding last year and Eco Recycling Ltd, which is backed by Japan's metal pre-processor company Nippon Magnetic Dressing Co. Ltd and Brand Capital.
(Edited by Joby Puthuparampil Johnson)
---