PayUMoney crosses Rs 100Cr transaction mark in India, has signed up 130K Indian SMEs to date

Gurgaon-based PayU India Internet Pvt Ltd that offers an online payment solution PayUMoney (earlier PayUPaisa) claims to have processed transactions worth Rs 100 crore since its inception in April last year. The company is now looking to grow this number by over 40 per cent within the next year.
It further claims to have signed up more than 1.3 lakh Indian small and medium enterprises (SMEs), and has 30,000 merchants live on its platform as of now. Apart from Tier I cities such as Delhi, Mumbai, Bangalore, Chennai and Kolkata, SMEs from Tier II cities such as Siwan (Bihar), Visnagar (Gujarat), Kalka (Haryana), Udaipur (Rajasthan), and Rourkela (Odisha), etc. have also signed up for the PayUMoney payments platform.
The company has also come out with a table (see below) that showcases the average monthly transactions processed by live merchants on PayUMoney versus the average monthly transaction processed by traditional e-commerce players.


Started in October 2011, PayU India is part of Naspers Group, a South Africa-based multinational group of media and e-commerce platforms. Headquartered in Gurgaon, the company also has regional offices in Mumbai, Bangalore, Hyderabad, Chennai, Kolkata, Pune, Jaipur, Ahmedabad and Shimla.
The company had launched PayUMoney, a web-based product that enables small and medium sellers to put their stores online in minutes and transact through the PayU gateway. It offers a gamut of free tools like a payment gateway, web store, email invoicing and an event-ticketing platform, etc. to collect payments online.
According to the company, PayUMoney has been more effective for SMEs to sell their big ticket products online when compared to e-commerce players since the latter act as aggregators, displaying products by other vendors as well. In comparison, PayUMoney enables SMEs to not only market their products online directly but also collect payments for them.

Due to this, the company claims that in the second quarter of operations, its merchant acquisition grew six times, while this number doubled each time in the third, fourth and fifth quarters respectively.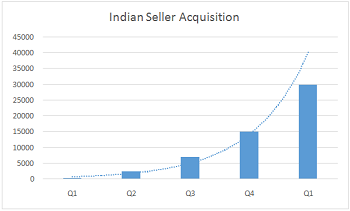 Early this year, the company renamed its flagship product PayUPaisa to PayUMoney. This was been done to position PayUMoney as a global brand and reach out to an international audience.
It also launched a wallet service for online shoppers in India. Called 'PayUMoney wallet', the e-wallet enables consumers to pay through normal payment methods like credit card, debit card or net banking and get rewarded on every transaction.

In related news, India's largest e-commerce company Flipkart recently invested an undisclosed amount in ngpay, a mobile payment gateway platform owned by Bangalore-based JiGrahak Mobility Solutions Pvt Ltd.
Flipkart has also said that it is shutting down its one-year-old payment gateway service PayZippy.
---