After Sony, it was Samsung's turn to launch a number of smart devices at IFA 2014, an ongoing consumer electronics show in Berlin. As expected, the company unveiled its next in line Note offering christened Galaxy Note 4. It also announced a mobile virtual reality headset called Gear VR, which has been optimised for Galaxy Note 4.
But the surprise entrant was Galaxy Note Edge, a phablet which sports a unique curved display that is unlike the ones being offered by its competitors like LG.
"With the introduction of the Galaxy Note series, we brought the age-old culture of the pen and notepad into the digital world. The new Galaxy Note 4 introduces the most refined Note experience to-date by combining all the latest technology that users expect from the Galaxy series," said JK Shin, CEO and head of IT & mobile communication at Samsung Electronics.
Here is a quick look at the devices.
Galaxy Note 4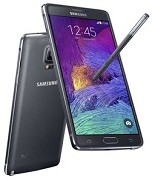 The phablet sports a 5.7 inch Quad HD Super AMOLED capacitive touchscreen display (2560×1440 pixel resolution), and runs on the Android 4.4 KitKat operating system. Due to its large screen, users can choose how they access their applications with full, split or pop-up screens, and change the size and positioning of apps on the screen with one swipe.
Depending on the region, the device will be powered by a 1.9 GHz Octa-core processor, or a 2.7 GHz Quad-core processor. It has 3GB of RAM, and comes with 32GB of internal memory that can be further expanded up to 64GB with a microSD card.
Note 4 packs a 16 megapixel auto-focus rear camera with LED Flash that can record Ultra HD videos at 30 frames per second (fps) and full HD videos at 60fps. The device also has a 3.7 MP front facing camera that can also record full HD videos. The rear camera features a Smart Optical Image Stabiliser that counter-balances camera shake and automatically extends exposure time in dark settings.
Users can also make use of both the cameras with dual shot and dual recording. Additional features of the camera include HDR, rear-cam Selfie, beauty face, and selective focus, among others.​ On the connectivity front, the device has Bluetooth 4.1, IR LED, Wi-Fi, 3G and 4G LTE (depending on the region), as well as a microSD card slot and a microUSB port.
Here is an introductory video of the device.
The dimensions of the device are 153.5mm x 78.6mm x 8.5mm, and its weight is 176gm. The company has provided a 3,220 mAh battery in the device. It will be available in charcoal black, frost white, bronze gold, and blossom pink colours. The Galaxy Note 4 also comes with an improved fingerprint scanner, and a built-in 'voice recorder' which offers eight different directional voice tagging and a selective playback capability that allows users to isolate and listen to specific voices in a group conversation.
While an exact India pricing is not available as of now, the phablet will be launched in global markets starting next month.
Improved S Pen ​ Galaxy Note 4's S Pen has been specifically evolved to offer a much more authentic pen experience, with a natural brush effect that emulates writing on paper with a fountain or calligraphy pen. The S Pen also introduces a more user-friendly Air Command functionality along with other features such as Action Memo, Screen Write, Image Clip and Smart Select, in order to allow users to create and collect content with ease. ​ In addition to typing and writing, the Snap Note feature allows users to take a picture of their notes on a paper or a classroom board, and then easily convert to the S Note.
Galaxy Note Ed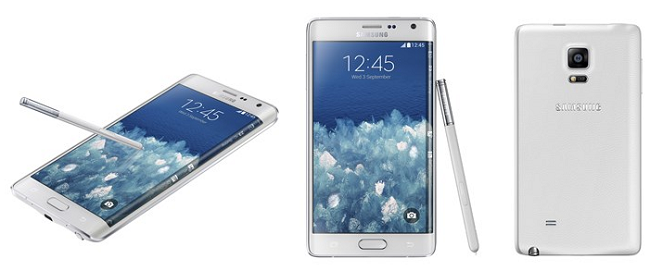 ​ Taking the Galaxy Note experience to the next level, the Note Edge provides users with a new way to access information and engage with their mobile device. The phablet's unique curved edge screen (see picture) provides quick access to frequently used apps, alerts and device functionality– even when the cover is closed– all with the swipe of a thumb. Users can also receive notifications directly on the 'Edge Screen' while watching videos without disturbing their viewing.
In comparison to Note 4, this one sports a slightly smaller 5.6 inch Quad HD Super AMOLED capacitive touchscreen display (2560×1600 pixel resolution), and runs on the Android 4.4 KitKat OS. It is powered by a 2.7 GHz quad-core processor and has 3GB of RAM. In terms of internal memory users can opt for 32 or 64GB models, with further memory expansion up to 64GB also available with a microSD card.
The phablet packs similar camera and connectivity options as that of Galaxy Note 4. The dimensions of the device are 151.3mm x 82.4mm x 8.3mm, and its weight is 174gm. The company has provided a 3,000 mAh battery in the device. Note Edge will be available in charcoal black and frost white colours in select markets through Samsung's retail channels, e-commerce sites and carriers later this year.
Gear VR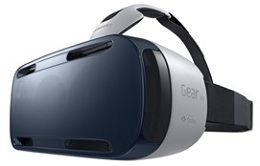 Samsung also introduced its next generation wearable technology, the Samsung Gear VR Innovator Edition. Powered by Oculus (acquired by Facebook) technology, Samsung Gear VR​creates a mobile virtual reality experience in order to enable users to fully immerse themselves in a cinematic virtual reality environment. ​ "The Samsung Gear VR goes far beyond expectations of how mobile technology can be used to consume content. We are pleased to have partnered with Oculus VR to bring this mobile content experience to consumers," said Shin. ​ Built with soft, flexible cushioning and lightweight materials, the Samsung Gear VR is completely wireless, and can be paired with the Note 4. With a selection of optimised virtual reality content from a wide range of creators, users will be able to enjoy a wide range of film, gaming, 360 degree video, and educational/experiential content on Gear VR. The device provides a 96 degree field of view, and its dimensions are 198mm x 116mm x 90mm. It will be made available by Samsung in frost white colour later this year.
---