Apart from launching two new iPhone models- iPhone 6 and iPhone 6 Plus- Apple has also announced its first smartwatch, as well as a new mobile payments system called Apple Pay. Christened Apple Watch, the device comes with a rectangular retina display and offers 11 customisable watch faces ranging from traditional analog faces to new faces like dynamic time-lapse, astronomy face, and the Solar face, among others.
Read our detailed coverage of the new iPhones here.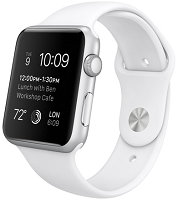 Apple Watch
Apple Watch has an iOS-based user interface that has been created specifically for a smaller device, and will enable its users to send and receive messages, answer calls to their iPhone, as well as send something as personal as their own heartbeat. The smartwatch also features Wi-Fi and Bluetooth 4.0 to pair with the user's iPhone.
The retina display on Apple Watch features 'Force Touch', a technology that senses the difference between a tap and a press- providing a new way to access controls within apps. Apple Watch also introduces the 'Taptic Engine' and a built-in speaker that together enable a number of alerts and notifications that you can both hear and feel.
Digital Crown: Apart from the touchscreen, Apple has also added a specially designed and engineered 'digital crown' in the smartwatch, in order to enable users to scroll, zoom and navigate fluidly, without obstructing the display. The digital crown also serves as the 'Home' button and a convenient way to access Siri, Apple's personal voice assistant.
It will be available in three distinct collections- Apple Watch, Apple Watch Sport and Apple Watch Edition that are available in two different sizes, 38 and 42mm. The enclosures are crafted from custom alloys of polished or space black stainless steel; space gray or silver anodised aluminum; and 18-karat rose or yellow gold. The company has also created a number of watch straps, ranging from elastomer sport bands and classic leather buckles, to stainless steel link bracelets, etc.
Additional features
Smart Replies and dictation: Let you respond quickly to messages, and with Handoff, you can start a message on your Apple Watch and continue where you left off on your iPhone.
Glances: Swipe up from the watch face for Glances that quickly show you information such as your current location, stocks or your next meeting.
Friends: Pressing the side button brings up Friends, a view of your favourite people, so you can contact them quickly.
Digital Touch: Allows you to send a sketch, a gentle tap, an audio message (through Walkie Talkie) or even your own heartbeat.

The smartwatch also uses the accelerometer, a built-in heart rate sensor, GPS and Wi-Fi from your iPhone to provide a comprehensive picture of your daily activity. Note that the Apple Watch will only be compatible with iPhone 5 and later models running the latest version of iOS 8. It will be available early next year for a starting price of $349 (Rs 21,273).
"We anticipate that smartwatches will become the dominant wearable smart device in terms of sales by early 2017. We forecast that sales for smartwatches will outpace smartbands, worldwide, in 2017. By 2020, we anticipate the smartwatch market to be worth $12.9 billion, annually for developed markets, with an installed base of 92.6 million devices," said Martin Scott, head of consumer services research at Analysys Mason.
"Apple will drive this market. Other manufacturers will benefit from a 'halo' of increased interest and awareness in smartwatches as a credible device type, but we do not anticipate any vendor matching Apple in the short or medium term," he added.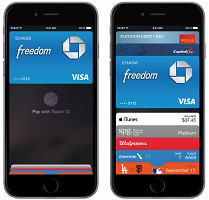 Apple Pay
The company has also launched its own mobile payments system called Apple Pay. The new offering allows users to add their credit/debit card on file from their iTunes Store account, in order to enable them to pay for physical goods and services including apparel, electronics, health & beauty products, tickets and more with Touch ID- the iPhone's fingerprint identity sensor.
Apple Pay supports credit and debit cards from three major payment networks including American Express, MasterCard and Visa. Apart from a number of stores and merchant locations across the US that have contactless payment enabled, Apple Pay can also be used for making purchases through apps in the iTunes App Store.
How it works?
When you add a credit or debit card with Apple Pay, the actual card numbers are not stored on the device or on Apple servers. Instead, a unique 'Device Account Number' (DAN) is assigned, encrypted and securely stored in the Secure Element on your iPhone or Apple Watch. Each transaction is authorised with a one-time unique number using your DAN and instead of using the security code from the back of your card, Apple Pay creates a dynamic security code to securely validate each transaction.
"When you're using Apple Pay in a store, restaurant or other merchant, cashiers will no longer see your name, credit card number or security code, helping to reduce the potential for fraud," said Eddy Cue, senior VP of internet software and services at Apple.
"Apple doesn't collect your purchase history, so we don't know what you bought, where you bought it or how much you paid for it. And if your iPhone is lost or stolen, you can use Find My iPhone to quickly suspend payments from that device," he added.
Apple Pay works with iPhone 6, iPhone 6 Plus and the Apple Watch. Available only in the US as of now, don't expect to get this mobile payments system in India anytime soon.
---