PayU launches new version of its merchant dashboard, comes with real-time bank downtime alerts, refund tracker & more

Gurgaon-based PayU India Internet Pvt Ltd that offers an online payment solution PayUMoney (earlier PayUPaisa) has released a new version of its merchant facing dashboard to provide a better understanding of the purchasing behaviour of consumers to its merchants.
According to the company, the new platform includes a visual analytics tool (see picture below) for better data representation, and helps merchants dive deep into payment features like conversion rates, payment method & device preferences, card vault usage, refunds, and offers, etc. Merchants using PayU's analytics tool will also be able to filter transaction data by web, mobile, domestic, international, IVR, SI, email invoice, etc. to get deeper insights into the customers' payment patterns. They can compare success rates of different payment methods and check distribution of their mobile and desktop transactions.
"The objective of revamping the merchant panel is to be more efficient and transparent when it comes to payment analytics and make it super easy for a merchant to comprehend the data. The new merchant panel will help merchants in taking wise and timely business decisions by using various data sets to their advantage," said Prashanth Susarla, senior VP- product and engineering at PayU India.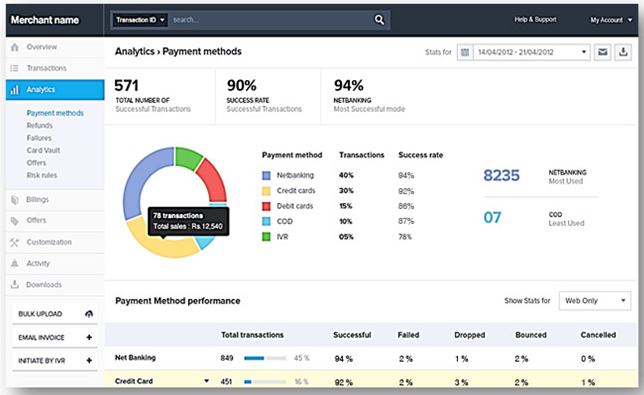 What's on offer?
Payment Methods: When a merchant clicks on Payment Methods, all the information regarding the relevant payment method for the selected period is displayed at the top. It will show the total number of payments, success rate, and what per cent of the payments happened through net banking or credit/debit cards, cash cards or PayUMoney.

In addition, to get a deeper understanding on how each of the payment method is performing, merchants can click on a specific payment method. By doing so, they will get information like the total number of transactions, rate of success/failure, etc. for each of the net banking options (like HDFC, ICICI, Citibank, among others). Similarly, they can also get issuing bank-wise insights for credit/debit cards as well.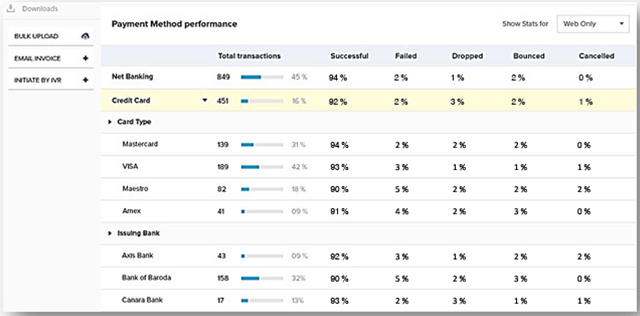 Real-time downtime alerts: The company is also offering issuing bank downtime application programming interface (API). Using this API, merchants can detect not only scheduled but also unscheduled issuing bank downtime in real-time. According to the company, it has developed a proprietary algorithm to detect downtime of card issuers, based on the mapping of Issuer Identification Numbers (IIN) - the first six digits on a credit or debit card.

Merchants can use this API to alert the customer on their payment page if a card issuing bank is down and ask for their e-mail/phone number for sending a notification when the bank is back up. PayU has also developed a similar service for detecting net banking downtimes.
The company claims that this API can help salvage around 2.5 per cent of net banking transactions which get impacted due to unscheduled downtime from banks.
Diagnostic tool: PayU has also built a diagnostic tool to help merchants analyse and compare conversion rates between two time periods. At the end of the diagnosis, an automatic report is generated which provides the cause of success rate fluctuations, such as integration issues, bank downtimes and change in payment mix.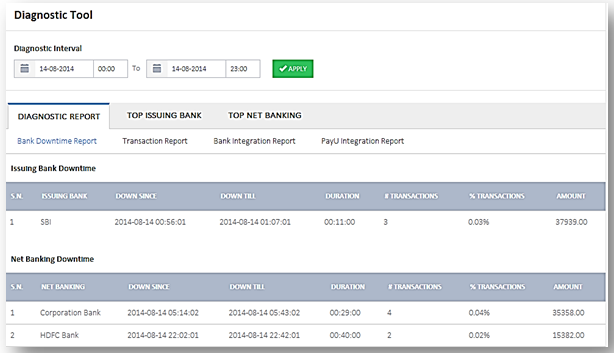 Refund tracker: A refunds tab in the analytics tool helps breakdown refunds as the total number of refund requests stored, the number of successful refunds, the number of pending refund requests, as well as the number of failed requests. Additionally, it will help the merchant decode the refunds by payment modes used.
New search box: A new search box makes it easier for merchants to search for a specific transaction ID, PayU ID, request ID, and settlement ID etc.

Started in October 2011, PayU India is part of Naspers Group, a South Africa-based multinational group of media and e-commerce platforms. Headquartered in Gurgaon, the company also has regional offices in Mumbai, Bangalore, Hyderabad, Chennai, Kolkata, Pune, Jaipur, Ahmedabad and Shimla.
The company had launched PayUMoney, a web-based product that enables small and medium sellers to put their stores online in minutes and transact through the PayU gateway. It offers a gamut of free tools like a payment gateway, web store, email invoicing and an event-ticketing platform, etc. to collect payments online.
Earlier this month, the company claimed to have processed transactions worth Rs 100 crore since its inception in April last year. It is now looking to grow this number by over 40 per cent within the next year. It further claims to have signed up more than 1.3 lakh Indian small and medium enterprises (SMEs), and has 30,000 merchants live on its platform as of now.

Apart from Tier I cities such as Delhi, Mumbai, Bangalore, Chennai and Kolkata, SMEs from Tier II cities such as Siwan (Bihar), Visnagar (Gujarat), Kalka (Haryana), Udaipur (Rajasthan), and Rourkela (Odisha), etc. have also signed up for the PayUMoney payments platform.
---