Times Internet merging TimesDeal with CouponDunia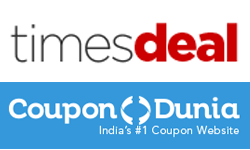 Times Internet Ltd, the digital arm of Bennett Coleman and Co Ltd (parent of The Times of India and various other news publications), has announced that the company is merging its deals site TimesDeal with the recently-acquired coupons service CouponDunia. Post merger, the company's entire coupon business will be brought under the CouponDunia brand.
"The merger will bring our combined user base the benefits of both worlds- the best online coupons and a wide range of local deals. The integration will take time and currently you won't see deals from TimesDeal listed on CouponDunia. But once its complete, you will find at least 5x the number of local offers each day in comparison to what is available as of now," read a statement on the company's website.
Time Internet had acquired CouponDunia earlier this year. As of May 2014, the site claimed to be getting two million visitors on a monthly basis and had over a million subscribers. It further claimed to have served coupons from more than 1,500 online brands and was driving Rs 500 crore worth of purchases annually.
Last year, the company had also expanded overseas with separate local language sites in countries like Turkey, Poland, Brazil and Indonesia. In India, CouponDunia competes with the likes of Rocket Internet-backed CupoNation and Cashkaro, among others.
Founded in 1999, Times Internet operates a portfolio of web and mobile properties including Indiatimes.com. Its offerings include news, mobile VAS, e-commerce, email, blogs, music, video and location-based services. The firm claims that it has over 37 million monthly visitors.
Comment(s)